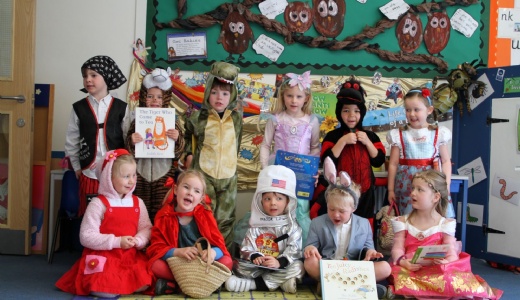 After the dramatic visit from the 'Beast from the East' last week, it has been great to be back to continue with many of our Book Week activities which had been postponed!
Our Book Fair continued until Wednesday, so all classes had a chance to go and choose books. Due to the snow, the World Book Day tokens, which all the children should now have, have been extended until the 31st March.
Children across the whole school enjoyed having the opportunity to dress up as book characters on Thursday and there were some wonderful costumes. Some of the Year 8 girls showed great teamwork and opted for a St Trinian's look for the day, whilst younger children came in a wide range of costumes from Harry Potters and Hermiones, to famous detectives such as Sherlock Holmes and the two young ladies from the Murder Most Unladylike Series. We had a few Alices and Dorothys, Peter Rabbits, caterpillars, the Tin Man, Wicked Witches, Heidi, Dennis the Menace, Goldilocks and some bears and even a couple of Wallies (from Where's Wally of course!) to name but a few. It was all great fun!
Mystery Readers surprised children by visiting classes and sharing some of their favourite books and we enjoyed some lovely Assemblies. Senior school had a very inspiring Assembly led by Emmaline Pankhurst (our own Ms Coatz) who successfully combined a celebration of International Women's Day with a wonderful presentation on women authors through the ages and a discussion on what feminism really means. (Warning: This may provoke some uncomfortable discussions at home on who does which household chores….and...more importantly, why?!).
In the Pre-Prep Assembly on Thursday, the children paraded many extremely well dressed book characters. Fantastic book covers were illustrated, the forest floor was strewn with characters made from natural materials and the children sat around story telling like sagas of old. Paddington bear made a visit, favourite book data was gathered and made into graphs and Princes and Princesses danced in their full regalia during Ballet and Funky Dance sessions! Some of the Middle School children went to share their books with the younger children, which of course they all loved! All in all, great fun and it proved that the Pre-Prep are bonkers about books!
The Catering Department entered into the spirit of the occasion and provided the Prep School children with a wonderful teatime treat of Paddington Bear cakes!
All in all, despite the intervention of the elements, it was a most enjoyable celebration of the power of books! Thank you to TEAM MHS (and especially Mrs Atkins) for throwing themselves in so wholeheartedly and for helping to make Book Week 2018 another very successful, if slightly protracted, event!
(Our visiting author, Paul Geraghty, who was snowed in in darkest Surrey, will now be visiting us next term…with more lovely books for sale, so do watch this space!)
Current parents please click here to see the photos in our Gallery.