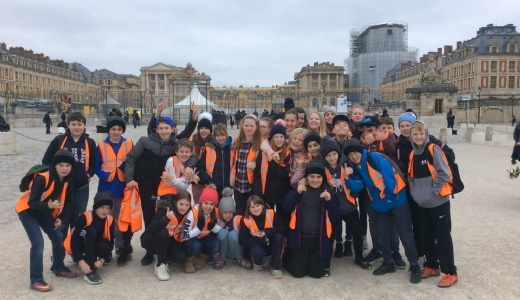 Year 7 ended the Spring Term with a fantastic trip to France
They started in Paris where they visited the Sacre Coeur and Montmartre; the children did some shopping and Madame James had her caricature sketched in the famous Place du Tertre! The following day they climbed up the stairs of the Eiffel Tower, the more adventurous even made it to the 2nd floor and this was followed by a leisurely boat trip along the river Seine. They went to Versailles and, although the chateau itself was closed due to national strikes in France, this did not dampen their spirits. After un chocolat chaud in a typical Parisian café they had a guided tour of the town of Versailles and even stood on the spot where the last execution by guillotine took place!
The next stop was Le Touquet where they spent a really enjoyable day meeting their French penfriends who gave them a tour of their school and invited them to play basketball and table tennis. Other cultural excursions included a visit to a snail farm, a marketa and boulangerie where the children learnt how to make bread and croissants.
The children were in excellent spirits during the four days away and all the staff were very proud of them. Madame James was particularly impressed with the enthusiasm they showed for speaking French and taking part in many new experiences.
Well done Year 7 and a huge thank you to Mrs Fox, Mr Ridge and Mr Tooze for all their help on the trip.
Current parents please click here to see the gallery of photos