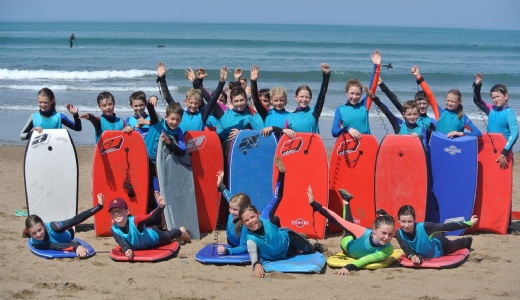 The Year 6 pupils took full advantage of last week's glorious weather on their trip to Devon for the inaugural trip to Moorland Hall.
Moorland Hall is an activity centre within the Dartmoor National Park. The children were in high spirits from the off and threw themselves into kayaking and exploring river gorges, as well as conquering the knee-knocking challenges of a high ropes course and the "Leap of Faith". They had a fun and fascinating trip to the Morwellham Victorian working village and particularly enjoyed dressing up as Victorian men and women. One of the highlights of the week for most of the pupils was a day spent bodyboarding, followed by ice creams and a barbecue on the beach.
The instructors complimented the children on their attitudes to the challenges that they faced, as well as their excellent manners. We have even heard from one parent that their child has been more helpful around the house since their return from the trip!
A wonderful time to remember for the children!
Current parents please click here to see the Gallery of photos