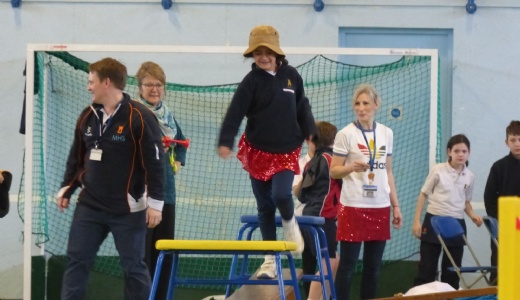 Awdry's Awesome Assault Course
On Friday March 23rd, to coincide with Sport Relief, Awdry hosted 'Awdry's Awesome Assault Course'.
The object of this fun activity was for each Form to complete a challenging obstacle course as quickly as possible. However, this was an assault course with a difference! The first challenge was 'Jumble Junction' where participants had to put on as many clothes (from the MHS costume department) as they could in twenty seconds! This obstacle set the tone for further physical challenges - 'Target Tension', 'Scramble Don't Amble', 'Ping, Pong, Plop' - and plenty of laughter! It was another great MHS team effort with many staff helping out throughout the day: keeping time, setting up obstacles, dressing the course, letting off claxons, helping people put on audacious wigs and, of course, completing the assault course. The adults were also ably assisted by the Awdry Y8s and the Y7 children who were not in France. These children showed great leadership skills and compassion when running their obstacle. Pupils throughout the school from Nursery to Y8 completed the course and a great deal of fun was had raising money for a worthy cause. Overall, the two Y8 forms completed the course in the quickest time.
The real winner however was Sport Relief because a total of £681.05 was raised to help the charity continue its fight against malaria, improve maternal health for mothers and babies in Africa and continue to assist people in the UK living with mental health problems. Well done to all!
Steven Little: Head of Awdry
Please click here to see some of the photos on our Facebook page