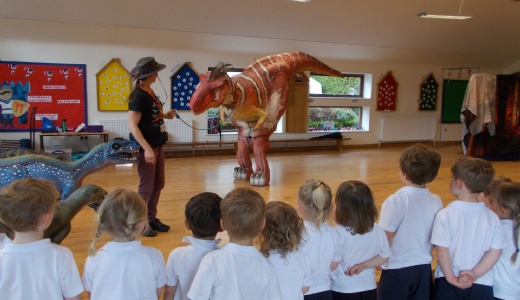 To kick start the Pre-Prep's new Topic, 'Roarsome!', we were visited by The Travelling Natural History Museum this week!
With the largest travelling collection of fossils and life-size replicas, Dino-Girl enthralled children in Nursery to Year 2 with real life dinosaur artefacts, fossils and life size models. Whilst one year group experienced Dino-Girl's interactive and informative workshops, other year groups became paleontologists, unearthing fossils and pre-historic bones, or casting their own plaster of Paris fossils.
Work shops included the 'dino-belly experiment'. A Brachiosaurus stripped leaves from a tree that were digested by drinking water and eating stones. After a quick dance to mix the rotting, digesting leaves, we had a peek – and a smell – of his 'belly. Lots of wrinkled noses resulted – what a terrible smell!
We also experienced the magnitude of the largest flying reptile to ever live - the Quetzalcoatlus, with a wingspan of 45 feet - by venturing outside with a life-size, cut-out and made him 'fly'! We dropped a rock on a box of flour to simulate the meteor that ended dinosaurs hitting the earth. Many shrieks of delight were to be heard as flour shot in the air. We giggled at our attempts to get up from the floor if we had T-rex sized arms. We handled a 150million year old tooth. And we guessed what fossil we were holding…. Only to discover it was fossilised dinosaur poo!
The ferocious finale was our absolute favourite: Reggae Rex the walking, roaring, animatronic T-rex. He danced to Bob Marley, chased Dino-girl, and loved the children stroking his nose. Reggae Rex showed his sharp teeth and load roar, but fortunately he was a friendly dinosaur. So much so, Mrs Edmondson thinks she might get a pet dinosaur for the Nursery garden!
Please click here to see some photos on our Facebook page