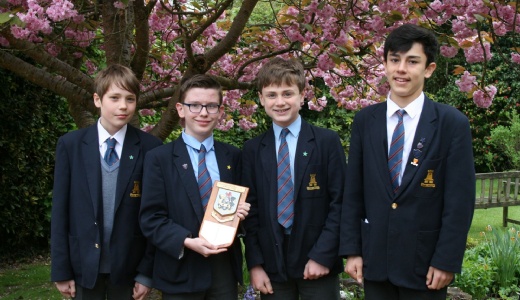 MHS sent two teams to the Sutton Valence Maths competition and our U13 team returned triumphant!
Fourteen teams competed at the Under 12 level and eleven teams at the Under 13 level. Their task was to answer twenty questions within a 30 minute time limit. The team to answer the most questions correctly is the winner.
The U13 team answered 12 questions correctly for a tied first position. They then had to enter the sudden death play-off and won the competition by answering the extra question correctly first! What an exciting finish!
At full time the U12 team had done extremely well to finish in fourth place, managing to answer 11 questions correctly.
An excellent evening was had by all: the pupils were a real credit to MHS in their performance and behaviour. Their teachers and parents are very proud of their achievement. Well done MHS!
Congratulations to both teams:
U13 team: Henry (captain), Alex , Danny and Kamran
U12 team: Jack (captain), Tallulah , Felicity and Tom