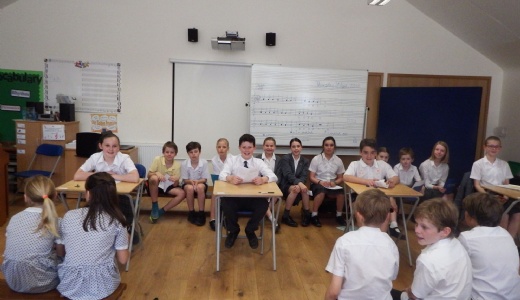 Year 7 and many of their parents thoroughly enjoyed the battle of words in the two Year 7 Debates on Friday.
We were asked to consider two very controversial and challenging topics: 'Should the Death Penalty be Abolished Worldwide?' And 'Should the National Health Service Continue To Be Free for all?' Our debaters were all in fine form and gave us a great deal to think about!
Cosima and her partner Christian spoke passionately about the need to abolish the Death Penalty because of the very real potential for unfair or wrongful convictions and miscarriages of justice. They had certainly put in a great deal of time and effort into their speeches and were well-supported by some very convincing statistics. Tallulah and Ollie strongly countered these arguments and also came armed with many facts about the problems with the prison system, the likelihood of reoffending despite prolonged and expensive incarceration, and the need for restitution for grieving families.
All the debaters spoke eloquently and passionately and were very well informed but it was Cosima and Christian's arguments which convinced the audience that the death penalty should certainly be abolished.
Next up we had Meg and Alf who pleaded passionately for the continuation of a fair, equal and free health system for all, painting a bleak picture of a world without access to the health services we may all need one day, regardless of our personal or financial situation. Both spoke very convincingly and Meg drew on her American background to prove to us that a system similar to that in the United States would not be a desirable or fair system to adopt. Sophie and Sabella bravely battled against their arguments and were very passionate about the pressure put on the NHS by people whose lifestyle choices have had a negative impact on their health. They argued convincingly that the illnesses and diseases caused by such choices should not be treated for free due to the demands it places on our dwindling NHS resources. Sabella is to be particularly congratulated for standing in at short notice and for answering some very challenging questions from the audience.
At the end of the day, in a closely contested competition, Meg and Alf won the support of the audience with the continuation of a free national health service.
Well done too to all the moderators who helped to introduce the debates and keep the show on the road! Amelie, Dexter, Thomas, Emily and Holly; Tom, Skye, Molly, Emily and Maddy.