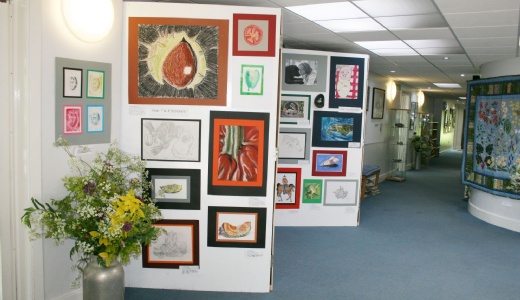 Review of 'Natural Selection' Marlborough House School's Art Exhibition 2018
By Mrs Sue Fields, Head of Art
Children, parents, visitors, staff and exhibiting professional artists all agreed that our recent exhibition was a 'Tour de Force.' The Private View evening was bustling and the Harrison building was transformed into a pop-up gallery with screens, plinths and glass cabinets to display the incredible diversity of work achieved by pupils alongside that of local, professional artists and staff members.
Children from Years 3-8 all created a piece of work for the show in the 'Destinations' section, which was much admired by visitors. Those children who attend Scholarship/enrichment sessions had put together a body of work, much of which had taken several weeks to create, and which was a centrepiece for the
exhibition.
It was lovely to see children stopping to look at the artwork between lessons and discussing in earnest, the pieces they liked best. I overheard many perceptive comments and was asked questions by pupils, who wanted to know more about the artist/technique, or why a piece of art could cost £600! The children said that they would like the Harrison to look like this all the time!
We will definitely be making this an annual event as this one has been such a success. Money raised from commission on sales will be used to run an artist led workshop in the Autumn term for MHS and Hawkhurst Primary School pupils. Details of this next academic year.

Altogether, pupils, artists and staff made a great team and I am one very proud Head of Art.
Well done everyone!
Sue Fields.