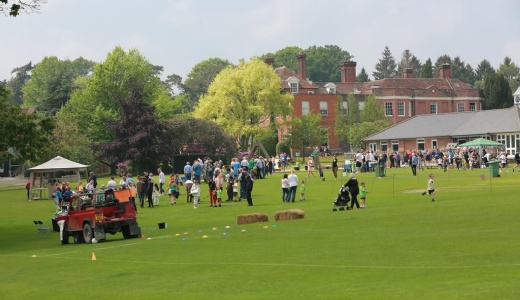 The afternoon sun shone for the annual MHS Summer Fete - it was a great afternoon once again!
This year the Fete was organised mainly by two Houses, Egan and Dunbar, but everyone played their part – children, parents and staff. It was the perfect way to celebrate our school and celebrate 'MHS Day'!
Each Form put on a stall and it was wonderful to see children and staff in partnership as they helped raise the terrific total of just over £1240. The money will be donated to Martha Trust, a charity which provides residential care homes for people with profound disabilities. The nearest home is in Hastings. The other charity is Foal Farm Animal Rescue which rehomes abused or abandoned animals.
The Prep school provided a great variety of stalls: Year 3 were delighted to get the 'Soak the Teachers' stall (never fails!); Year 4 provided books & cakes; Year 5 had Ping Pong Blop, a tombola and Welly Wanging; Year 6 set out a candy floss stall, a tombola and personalised laser cut key fobs; Year 7 had 'Name the Teddy' and Football goals and finally Year 8 had a tattoo parlour (temporary tattoos of course!), hoopla, coins in a tank and a Stairway to heaven challenge. As you can see, there was something for everyone!
To close the Fete, we had the traditional Year 8 Inter-House wheelbarrow relay with each House providing four pairs. Hawkings were victorious with a sub-minute time of 59.2 seconds closely followed by Egan (1:04.02), Awdry (1:07.19) and Dunbar (1.11.13). All great fun! The Staff also provided some entertainment on the wheelbarrow circuit with Mr Parsons & Mr King, Mr Hockley & Mrs Standen and Mr Kimber & Mr Tooze taking part.
Thank you to everyone for a truly fun, community spirit and hugely successful afternoon. Special thanks go to the Maintenance team who, as always, go above and beyond on occasions like this.
Current parents please click Here to see the Gallery of photos