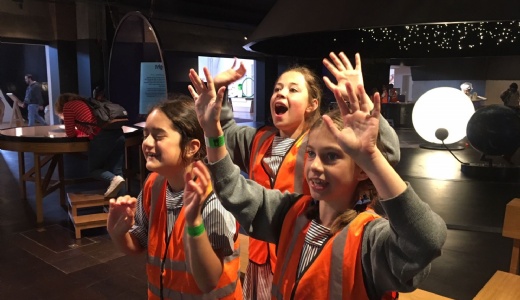 Thirty-seven curious young scientists ventured to the Science museum in London for the annual Year 5 trip just before half term.
After a long but very calm coach journey, embellished with Mr P-Cs inimitable guided tour of London (managing to link Goldsmith's college in New Cross to the wonders of art and science; and the formation of the band, Blur…), the children disembarked at our destination. After a brief meander through Energy: fuelling our future, we went into Wonderlab – most pupils' highlight of the day. This is a mind expanding, interactive, treasure trove of scientific adventure. There were forces (pulleys and slides to explore), dry ice, potions, electricity, illusions and much, much more. All the children watched an engaging science show and then we stopped, very hungry, for lunch.
In the afternoon, we marvelled our way through the flight gallery and spent an eye opening 40 minutes in the "Who am I?" gallery exploring how a combination of our genes and our experiences makes us who we are. Mr P-C wittered on about the Watson & Crick model of DNA and then we went deep into Space! Our mission ended in the shop. Mr P-C and Mrs Gunson both bought a wonderful book, "Deviate – the Science of Seeing differently" by Beau Lotto while most of the children indulged their fascinations with rheology and fluid dynamics by buying an inordinate amount of putty…as always a wonderful yet exhausting voyage of joyful discovery!