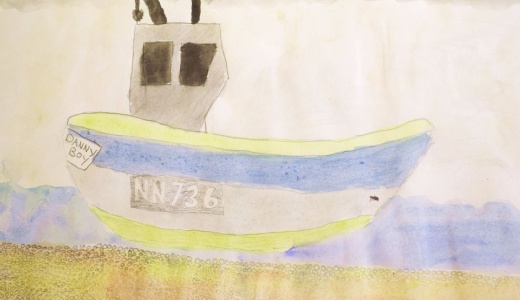 Our Year 7 pupils thoroughly enjoyed their art trip to Hastings last week.
Despite warnings of showers and cooler temperatures, last Friday was a bright and sunny day for the Year 7's trip to Hastings.
They began with a talk about the Jerwood Gallery and the three separate exhibitions that were in situ.
The children were immediately drawn to the Quentin Blake exhibits, some of the characters of which will be familiar to readers of Roald Dahl or David Walliams. These works however, were created specifically for the Jerwood show, and displayed a different and sometimes darker side of the illustrator's work. Some of the ink paintings to do with the plight of refugees were particularly moving and atmospheric, as were the larger scale works, which Blake, at 87 years old, had created by being elevated on a cherry picker!
After this, they explored the painter Jean Cooke's work. Very different in style and content, pupils were asked to compare her style and approach to that of the Impressionists, whose work they have been studying this term. They had to think carefully about things such as composition, subject matter, brushwork and use of colour, as well as making copies of some of the works in their sketchbooks.
Lunch was then eaten in the pedestrian precinct next to the sea, ensuring that the seagulls did not make off with any sandwiches! Then a short period on the play equipment in the park, before heading to the beach to draw all the seaside paraphernalia of boats, huts and nets.
By this point the wind had really picked up and it was quite a challenge to draw in such blustery weather! Regardless of this, some lovely work was achieved. Finally, an ice cream stop on the way back to re-join the coach provided a well-earned reward for all the hard work undertaken - and a lovely to end what had been a most enjoyable visit.
Mrs S Fields, Head of Art