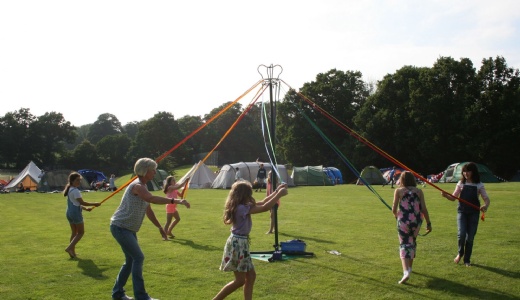 The weather was set fair once again for our annual MHS Camp out and mini festival!
The parents and children all arrived (with enough kit for a week instead of a night!) and set about happily unravelling tents and sleeping bags. By 5pm everything was ready and the fun was really about to start!
The May Pole dancing kicked off proceedings with some very enthusiastic dancing from various Year groups and parents, thank you to Helen Edwards for leading this and showing everyone the moves. There was face painting, hair braiding and tattoos, with story telling for the younger children and of course the Killick's Candy floss machine is always a winner. Both young and old alike enjoyed the enormous inflatable assault course (exhausting!) and the 'Last Man Standing' (a little scary but a lot of fun!). With so much entertainment it was hard to choose! Best of all were our beautiful grounds for everyone to relax and socialise and of course the Stellar Bar was kept busy as everyone began to unwind.
The annual tug of war proved to be quite a contest. Mums vs Sons. Dads vs Daughters. Wives vs Husbands. There was a lot of determination to win!
A big thank you to all the catering staff who provided a truly delicious spread of food which all seemed to appear out of nowhere!
We all loved the band – Sarah G and the Other Three and as the sun set the dancing began and the glo sticks were out. Finally it was hot chocolates and a hearty sing-a-long by the camp fire before bed.
After not a lot of sleep, we woke to the chirping of the birds (or was that the Year 6 childen?!) and delicious bacon butties cooked by the school washed down with freshly brewed coffee from Eastwick Coffee Co.
Very many thanks to everyone who helped in any way to make this such a fun time for everyone who attended!