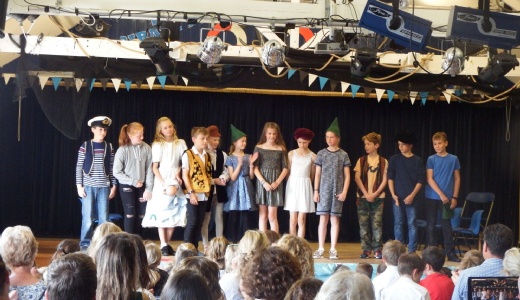 The Year 6 children entertained their parents with their wonderful plays last Friday.
After an incredibly busy week, it was a delight to be treated to some light relief on Friday morning, in the form of the greatly entertaining, highly original and enormously enjoyable Year 6 Informal Plays. We were held captive by the three classes' very different productions, all of which were based on original interpretations of a traditional story. And very original they were too!
We started with 6J's very amusing story, written by Lucia, entitled: "The Three Different Pigs." Here we met three interesting and original characters, all of whom were vying for a prestigious "Grand Designs" award to be bestowed by a very autocratic, highly egocentric and temperamental Queen. There were some fantastic feats of architectural design evident in some of the highly ambitious building projects on which two of the characters had embarked and some delightfully portrayed cameo roles with high drama provided by moments of beheading and bloodshed! This was a lovely interpretation with some great humour!
6R's play, written by Lucy came next. This was "A Charm for Trouble" and gave us the TRUE story of how Prince Charming met Cinderella. Parts had been created to showcase the many talents of this Form with singing, harp playing, dancing, joke telling and even juggling! Our Prince Charming was alleged to be a rather less than charming individual with a reputation for being a "naughty, naughty boy!" However, he was innocent of the charge and had been put into the unenviable position of trying to juggle three very demanding girlfriends, all of whom rounded on him when they discovered he had been set up into two-timing them! However, in true fairy tale fashion, it all ended happily ever after! Again there were some moments of great comedy and considerable talent and some beautiful singing and dancing.
Lastly came the very original interpretation "Risk it for a Biscuit", an original idea of Hal 's which the whole class had developed further, producing a very enjoyable version of Jack and The Beanstalk complete with a beanstalk and an aeroplane, created by some brilliant physical theatre. There was a colourful cast of characters and superb acting in the telling of this tale which involved Jack trying to appease his demanding Granny by securing the Goose that lays the Golden Egg and using the money gained to buy her that King of biscuits ….. Custard Creams. In this tale of high drama, Jack encountered 3 witches who possessed the magic beans, which of course they spilled and, with the help of 6 dwarves, he succeeded in rescuing the kidnapped Snow White who had been setup to marry, of all people, Dr Frankenstein! A touch of some magic potion ensured that this tale also ended "happily ever after" too with Dr Frankenstein happily wed to the Wicked Witch of the West! All of which proves that anything is possible in a Year 6 interpretation!
It is impossible to single out individuals for special praise - all the children threw themselves into their very varied roles with enthusiasm, energy and enjoyment and entertained their audience with their wide range of talents. Well done to all and a big thank you goes to the children's English teachers for their support in bringing these ideas to fruition!