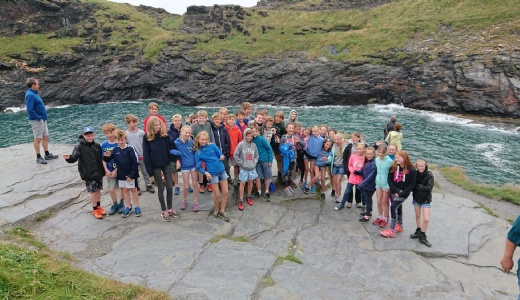 The Year 6 children had a wonderful week in Devon last week!
As soon as they set foot off the coach in Mary Tavy they were met by a wonderful group of outdoor pursuit instructors who would become their mentors and guides over the next six days. Each day was packed with a variety of exciting and challenging activities; the children judging the high ropes, leap of faith and kayaking among their favourites. Children conquered their fear of heights by launching themselves from the tops of high trees (with safety harnesses and protective helmets of course!). Kayaking proved a challenge for many, paddling round in circles, getting slightly dizzy until mastering the paddle.
They experienced Victorian life at Morwellan Quay, a World Heritage site. Here they dressed as Victorian gentry, discovered the workings of a tin mine and learned the wonderful art of rope making. One stand-out moment from this activity was watching the children in the Victorian school yard using their rope to skip – something we don't often see at Marlborough House!
On any trip to Dartmoor it is obligatory to explore the tors, taking part in the strange but entertaining letter boxing and ferreting. Nothing to do with the Royal Mail or small furry animals!
They had a fantastic day walking through the Cornwall countryside into Boscastle learning about the floods of 2004. A topic that will be covered in Year 7 Geography lessons. This was followed by an afternoon of body boarding in exceptional north coastal surf.
A wonderful opportunity for Year 6 children and staff to spend time together that they will remember for always.
Current parents please click here to see the Gallery of photos