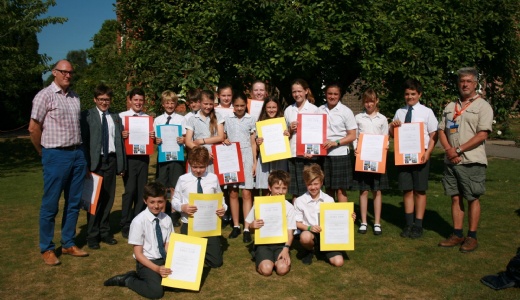 On Monday, Marlborough House hosted the judging of the third season of WACI [Weald Award for Creativity & Innovation]
This innovative award gives children the opportunity to come up with, develop and present a novel idea to a panel of experts; free from the shackles of mandated curriculum learning. It will be the free-thinking, open-minded, creatives who hold the keys to the kingdom in the future, so this award is timely and important. Our children are very fortunate to have such an opportunity.
Sixteen entries were probed by five judges with a diverse range of technical, professional and life experience including the co-founder of this year's housing architect of the year award, Andy Puncher of pH+ architects; Dr Gary McKay, a technologist currently responsible for innovation at the University of Dundee; Mrs Liz Daley, a former Marlborough House teacher; Kate Schuricht, a ceramic artist and our very own Head of Science, and former product development scientist with Pfizer, Zeneca and SmithKline Beecham. This was the first year that Year 6 children have been allowed to enter, to encourage greater involvement from local primary schools. The winners of the Year 6 competition, winning £250, are two boys from Marden primary with their stress preventing idea for a "Smart Car Park." Runners up in Year 6 were Lucy and Lucia from MHS with a novel idea titled "blind guide." In Year 7 there were entries from Bethany School and MHS. Maddie and Sabella came 3rd= winning £100 for their plastic munching robotic shark. Sam also came 3rd = with a "smart" bathroom mirror offering health and dietary advice called "the healthy selfie." In second place, winning £200 was Ollie's "healthy eating app" which included some very scary statistics about food waste and obesity. In 1st place, winning £250 with his inventive idea and prototype of a rear-view reflective cycling glove, designed to improve bicycle safety, titled "Look!" was Freddie from MHS, who made an excellent pitch to the panel.
Next year, we hope to expand into Cranbrook School in Year 7 and approximately six more local primary schools in Year 6; as well as our established partners at Bethany and Marden Primary.
As well as the cash prizes, the shortlist - including the winners listed above and Tallulah, Felicity, Meg, William and Toby experienced to school day trip of a lifetime on Thursday, to places children so young don't normally get to see: a guided tour of a "grand design" from the architect; a tour and lunch at the COOK! kitchens in Sittingbourne and a visit and guided tour of Pfizer's state of the art pharmaceutical laboratories in Sandwich. Eye opening, mind expanding and inspirational.