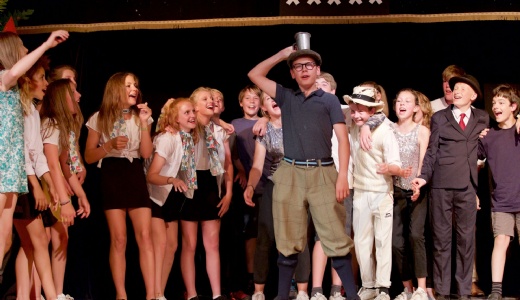 "Something familiar, something peculiar, something for everyone, a comedy tonight!" This rousing musical opening number to the Year 8 production of A Twelfth Night promised to deliver all this and more, and deliver they did! What a production!
Our very own Mr Little's hugely inventive and creative re-imagining of the world of Illyria as a chic holiday resort was a stroke of genius!
The Illyria Resort & Spa, the newly inherited jewel in the crown of the grieving Countess Olivia, (Elizabeth), was staffed by a team of elegant, stylish and cool young ladies, tending to the needs of their eclectic clientele. Georgie, Jemma, Daisy, Esme and Ines were delightfully graceful and delivered wonderfully convincing portrayals in all their scenes, songs and dances. We were also astounded by their fabulous range of accents in a later scene!
Updates of current crushes and romantic revelry were regularly given to us via the TV studio show "Keeping Up with The Illyrians" convincingly presented by Olivia, Mia and the hilarious Grace who had a problem remaining conscious when faced with the thought of the newly single and drop-dead gorgeous Duke Orsino (Kamran)!
Meanwhile, the poor crew of a ship was subjected to a terrible storm whose impending arrival was so lyrically described by Alexander (in the role of Yorick…apparently newly arrived from Denmark!) Their fate was in the hands of their strong and forceful Captain, portrayed with great conviction by the powerful presence of Ben. A wonderful piece of physical theatre created the horrors of this storm and the wrecking of the ship. The crew of Alex, Ashley, Nick, Danny, Ewan, Thomas and Oscar helped to create this scene brilliantly and were aided by dramatic music and superb visual effects.
Following the shipwreck, it was on the shores of the Illyrian Resort and Spa that poor, grief-stricken Viola, played with great grace, style and quiet confidence by Maddy, was washed up. Her twin brother Sebastian was sadly missing, presumed dead. However, unbeknown to Viola, Sebastian, charmingly played by William, had been saved by the "uber cool" surfing dude Antonio – wonderfully portrayed by Jack, whose Australian accent was… awesome!
Viola has no choice but to disguise herself as a man and go to work for Duke Orsino. Having been previously warned of Orsino's gorgeous looks by the Keeping Up With the Illyrian crew, the audience found it no surprise that Viola (now disguised as Cesario) instantly falls for her new boss's infamous charms! He, however, only had eyes for Olivia.
Acting as Duke Orsino's messenger, Cesario is sent to meet Olivia and her delightful ladies in waiting, Valeria and Lavinia (wonderfully played by the equally delightful Emily and Emma).In true Shakespearian fashion, his disguise fools Olivia and her lovely ladies. After a few moments teasing the tormented fellow, Olivia is swayed her from her previously proclaimed eschewing of male company, as she instantly falls in love with the charming young cross-dresser!
Imagine the confusion which will occur when the twin, Sebastian also turns up…!
Once ashore, we meet Duke Orsino's Dudes who were played with great confidence, excellent comic timing and oodles of humour by Max, William, Henry, Ethan, Lorcan and Rafael. There were moments of sheer slapstick, high comedy and a few more stomach-churning moments - the offer of a dripping drool smothered gum shield will be an abiding memory for many!
Bringing even more humour to the proceedings were the members of Olivia's family and household. What a rambunctious bunch of reprobates they were! The belching, drunken and larger than life Sir Toby Belch was carried off to perfection (and with worrying conviction) by William. We also meet the foppish Sir Andrew Aguecheek, who was hilariously created by Louis – complete with a few loose tic tac teeth – and a very convincing Fabian played by Nicholas, who was wonderful, throwing himself into his role with great enthusiasm and confidence. Matilda (Patricia) and Isabel (Maria) bravely tried to keep control of this wayward group and maintain the peace in Olivia's household, but to little avail!
Overseeing all the crazy goings-on of this group was Olivia's loyal, if rather stuffy servant, Malvolio, played with great dead pan humour, clarity and confidence by Alexander. He perfectly portrayed the poor, lovelorn victim who was the butt of the scheming household's jokes and his entry clad in yellow and cross-gartered, in a misguided attempt to win Olivia over, was a moment of pure comic genius, whilst his singing of "Walking on Sunshine" provided another wonderful musical memory for us all!
The role of Feste, the fool in Olivia's court, was played with great dryness and drollery by James whose enjoyment of the role and his painful puns was plain for all to see.
Of course much mayhem and heartbreak is inevitably caused and people seem to be married off to each other left, right and centre by the very willing and easily misled, Father William who was confidently portrayed by Henry. Of course, it all is resolved in the end and, as in so many traditional tales, all ends happily ever after!
The interactions between Olivia, Viola and Count Orsino form some of the most moving and emotional moments of the show and there is some sensational acting and singing from Elizabeth, Maddy and Kamran. Kamran and Maddy's "And So It Goes" was superb and showcased their wonderful musical talent.
Other magical musical moments came from Matilda and Elizabeth in "Girls just Want to Have Fun", the rabble rousing Sir Toby's party with their drunken version of "Wild Rover" and the whole troupe in their rousing finale "Dancing Queen".
This was a skilful, ingenious and highly entertaining interpretation of the original. It was performed brilliantly by the pupils and brought to fruition with great style and panache by the inspired direction of Steve Little, the always creative choreography of Susie Jones, the fantastic set, props and costume design from the combined efforts of Sue Fields, Felicity Robinson and Julie Speers and the wonderful musicianship of Ms Day and her band.
However, the stars of course were the children! They left us all with a smile on our face and a song in our heart, this will be a long cherished memory for us all.