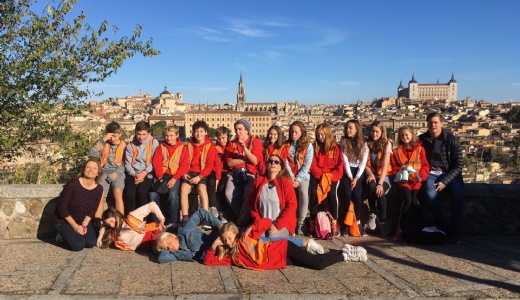 Last week our Year 7 & 8 Spanish students went on a fantastic trip to Madrid.
We stayed in a Catholic School and enjoyed a day getting to know our Spanish penfriends, immersing ourselves in their school day and taking part in their lessons. Later that evening, after some delicious churros con chocolate, we visited the city centre which included the wonderful Plaza Mayor, Palacio Real and Mercado San Miguel. The children also experienced mingling amongst the madness of Halloween celebrations in a modern European city.
On Thursday we visited the beautiful city of Toledo with Senora Sanz and learnt about the three religious and cultural districts; The Christians, The Jewish and The Muslims. We enjoyed an authentic Spanish meal followed by some retail therapy. Later in the day we visited the home of Real Madrid - the Bernabeu Stadium - which was a highlight for many.
On Friday the children saw Picasso's Guernica at the Museo Reina Sofia and a few examples of Salvador Dali which they enjoyed sketching and ,after a delicious calamari sandwich, we ended our trip in the sunshine, strolling around El Parque del Retiro with an ice cream.
Thank you to all the children who embraced the opportunity to listen to and speak Spanish, enjoyed the cultural visits and had great fun! Madame James was very proud of you all, a huge thank you goes to Madame James and to Mr Payne-Cook and Mr King for accompanying the trip and entertaining all with their tweeting!