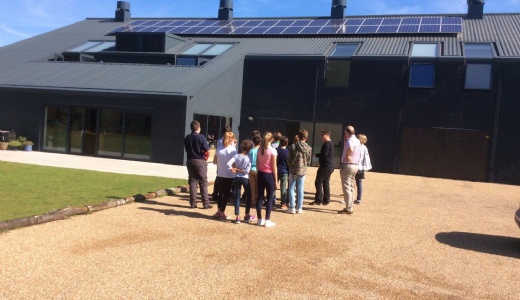 Thirteen participants in the Weald Award for Creativity and Innovation, eleven of them from Year 7 at Marlborough House, had a mind expanding experience on Mr Payne-Cook's Creativity Charabanc on Tuesday.
The children had a guided tour from the architect (Andy Puncher of pH+ architects and a judge on the WACI panel) of the Apple Store near Goudhurst, an enormous and envy-inducing architectural "grand design" converted from a derelict brick and asbestos Apple store. The owner, Andy Glass – a world leading photographer who had produced Ad campaigns for Guinness and Lexus - was also present and the children had a tour of his photographic studio: Wow!
They then meandered through glorious Kent countryside to the COOK kitchens in Sittingbourne where Ed Perry and his business partner Dale gave up over two hours of their time to take them into the marvellous world of COOK. The children put on their hygienic garb and squeezed themselves between an army of busy chefs, seeing how home-cooked food is scaled up to batches of 1500 portions and how half a million frozen portions of food are produced in a week. The children also did some taste testing, and had some delicious – better than you could make at home – chicken pie for lunch. Listening to the story of Cook, from a creative idea 20 years ago to a growing business with a turnover of £52 million and 900 employees; and how their very clear and simple vision drives their business was awe inspiring.
From a £52 million business to a $52 billion conglomerate, on to the Pfizer development laboratories at Discovery Park, Sandwich. Three scientists: "short" Steve, a synthetic organic chemist; "tall" Steve, an analytical chemist and Neil, a drug product development scientist gave up two hours of their time to show the children real modern chemistry labs, including a robotic high throughput reactor costing £1.1 million; a mass spectrometer costing £500,000 and three(!) scanning electron microscopes costing £250,000 each. The children were blown away by the scale and cost of the drug development process and they really liked playing on the wheelie chairs in the on site restaurant at the end of the day! Mr P-C really enjoyed his trip down memory lane and, while some of the complexity went over the children's heads, their listening skills, curiosity and fascination was a joy to watch.
These were some seriously fortunate children. They not only saw things that most adults never experience but they spent the day in the company of expert professionals who gladly gave up their time to inspire them in a variety of creativity driven careers post school; and expose them to some cutting edge innovation in photography, architecture, cooking, business, chemistry and medicine.
This was a tiring, long day. But you won't get a school trip like this aged 12 – or 17 – anywhere else. Marlborough House, the WACI and Mr P-C are pioneering fresh incentives and insights into the importance of Creativity and Innovation in your children's lives.