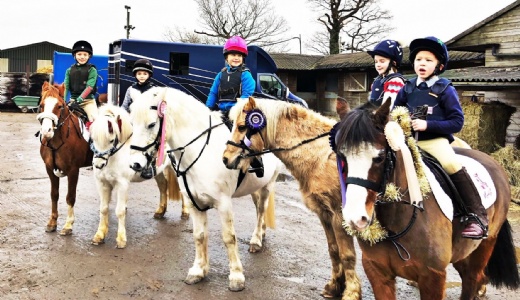 Just as most people were eating up their turkey and clearing up after Christmas, twelve of our MHS riders were out competing for the School!
We were delighted to welcome lots of new children who were riding for the school for the first time, including some from Years 1 and 2. Tinsel, Christmas jumpers and even sparkly gold hooves for some of the ponies was the order of the day!
Very well done to Erin who rode a clear round in the first class. This was followed by the 40cm class and the MHS team all jumped clear and won, well done to Zoe, Eliza, Jack and Annabel! Individually Zoe came 1st, Theo 3rd, Eliza 4th, Jack 6th and Annabel double clear.
In the 50cm class Matilda was 3rd, Emma 5th, Theo 6th and the team won! In the 60cm, the team of Hattie, Rex and Isabella R came 2nd. In the 70cm Intro Isabella was 5th and Rex 6th. Isabella S was then 6th in the slightly harder 70cm Mini and finally Felicity won the 90cm class!
A lovely day with lots of happy MHS riders, plenty of rosettes and, most importantly, smiling faces!