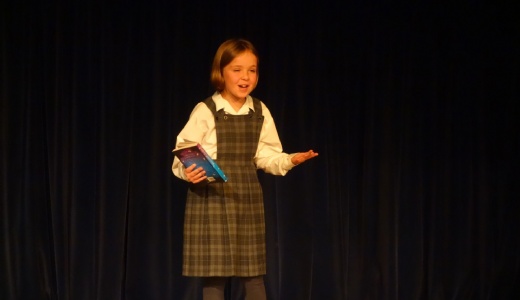 Thursday evening brought a new event to the MHS community in the form of an Informal Drama Evening, hosted and led by our Head of Drama, Mr Steve Little.
Mr Little, inspired by the Informal Concerts which Ms Day has run here for many years, hatched the plan to put on a similar event for children who would like the opportunity to perform a piece of prose or an extract from a play or even a song in a relaxed and supportive, informal environment. The Old Gym was the venue and we were presented with a wonderful selection of pieces from a wide range of children from Years 4 to 8. It was a joy to see the pieces children have been working on whether for pleasure, or for exams hosted here; such as the Trinity exams lead by Mrs Mary Pearson or The English Speaking Board exams. Many of the older children have also learned pieces for Drama Scholarships to their future schools, so this opportunity to perform them in such a supportive environment was a helpful stepping stone on that challenging journey.
The evening started with a delightful performance of Puck from A Midsummer Night's Dream by Molly whose wonderful expression and energy lead to a very confident and engaging interpretation of this little mischief maker. Her facial expressions and actions brought him to life beautifully.
Next we heard Isabella performing a very contemporary and quite gritty piece" My Mum's an Idiot" about the challenges facing a child whose parents have separated and who now have new partners. Isabella handled the complex mood changes with great confidence and conviction and her super facial expression and vocal range really added to the poignancy of the tale.
Sophie's poem "Fantasy in a Forest" provided a delightful contrast with its gentle, classic style. Her interpretation was thoughtful and sensitive and her diction was lovely.
Joel, (one of only two brave Year 4 performers) had us in stitches with his hilarious interpretation on the benefits of Sharing. His cheeky smile and great facial expression really brought this piece to life and taught us a lesson or two on some of the benefits of sharing wisely. He clearly enjoyed performing this while eating a biscuit…no mean feat!
Meg gave a very moving and powerful performance as Petra in "Edelweiss Pirates" a moving piece about her anger and shame at having a father who was a Nazi. We learnt that the Edelweiss Pirates were a group of people trying to stand up against the teachings of the Hitler Youth movement and Meg performed with great strength and conviction.
Hearing Darcy perform "I Know it's Today" from Shrek was a highlight and a compete contrast. What a confident and strong performer she is with a lovely little American accent and she threw herself into the role with great gusto and charm.
Following Darcy came Lydia with an inspired interpretation of a girl resisting her mother's pressure to visit a hypnotist's travelling show in "Under Hypnosis". This had some wonderfully comic moments and a complete change of character in which Lydia, under hypnosis, transforms into a real "ladette" who, it transpires is an arsonist caught on CCTV! Lydia carried this challenging piece off with great confidence and humour and a very convincing accent. It was most entertaining!
Dexter H - our other Year 4 participant - entertained us with his very amusing advice on how to survive Trick or Treat in "The Hallowee'en Rules". He delivered this very well and rose to the occasion, giving us some quite worrying insights into what to watch out for next Halloween!
Corey was next in the Little Acting Dynasty and his hilarious interpretation entitled "Theory" was on how to "bend" time. This was delivered with his usual trademark winning smile and cheeky humour. A very entertaining piece which we loved. Warning: It won't wash as an excuse for being late to lessons here though Corey….teachers have heard it all!
Beth was delightful as the washerwoman from "Toad of Toad Hall" which showcased her lovely, clear voice and her strong acting skills while Hal gave us another glimpse of Puck and his mischievous ways. Hal seemed a natural for this role and was most engaging, sparkly and full of energy.
We were then given a chilling taste of a dictatorial director in Antonia's "School of Rock" piece where she terrified us all with her bossy, domineering ways, using her clipboard as a weapon of mass destruction and demonstrating that she is clearly not someone to mess with! Watch out Mr Little, someone is ready to step into your shoes….
Dexter L's portrayal of Anderson, from Kes, was hilarious, creating a vivid picture of a terrible dare with his wellies full of wriggling, slimy tadpoles - the piece perfectly suited his lovely sense of fun and personality and was great fun.
Olivia was our last solo performer with her super rendition of "The Crocodile" by Roald Dahl which she performed to a very high standard with her excellent diction, great vocal and facial expression and range of pace.
We then saw an ensemble of Year 8 performing "A Case of Mistaken Identity" – an hilarious piece of theatrical mayhem with demanding directors (Mrs Pearson and Mr Little). This involved them forcing the ensemble to perform their sketch not once, not twice …not even three times but FOUR different interpretations from: slow, to fast, to super slow motion and lastly a completely "hammed up" version which was very amusing indeed. They clearly were having a great time and thoroughly enjoyed themselves. We really saw what a great range of talent they have between them: well done to Toby, Emily, Christian, Maddie, Meg, Beth, Sophie and Molly.
It truly was a great evening and we were amazed at the talent we saw on show. I am sure that this new enterprise will be one we will enjoy for years to come. Congratulations to all the performers, Mrs Pearson and Mr Little for all their hard work and support.