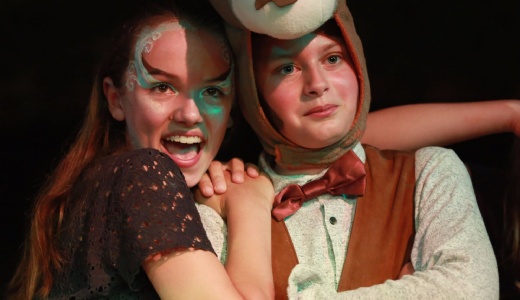 What a very fitting title for the Year 8 production which took place on Friday and Saturday of last week!
On two very balmy Midsummer Nights we were transported into a truly mesmerising world of magic and wonder from an enchanted forest to Duke Theseus' Athenian abode as the Year 8's production of "A Midsummer Night's Dream" filled the Old Gym with laughter, wonder and tears of joy.
From the very opening moments of this highly inventive and dramatically staged production, the audience was captivated as they were faced by fearsome Amazons and Athenians pitched in a dramatic, bloody, battle of life and death. Fantastic performances, moments of high comedy and rousing songs with audience participation ensured we were all fully involved and delighted by the children in their different roles.
Upon announcement, by the Herald (Harry) of a competition for a play to be performed at Duke Theseus' wedding, we then met the wonderful Rude Mechanicals. This motley crew were competently and convincingly lead by Archie as Quince with some hilarious cameo performances from Pyramus and Bottom (Tristan) whose skill with a string of sausages during his prolonged death scene was to be marvelled at! Wall, with its miraculous extending arm was an ingenious piece of staging and very well executed by Max and Harvey whilst Moon (Tristan) beamed benignly from his rostrum! Ben clearly enjoyed his role as a terrifying lion and the tragic death of a sweet faced and dulcet voiced Thisbe (played by Matthew) brought great poignancy to the moment with many an "ahh" to be heard escaping from the lips of our captivated audience.
Duke Theseus and his soon-to-be-bride, Hippolyta, were beautifully portrayed by Theo and Mia whose wise counsel soothed the frustrated Egeus, played with great power and maturity by Ricardo. Beau was Theseus' right hand man, Philostrate and brought a sardonic air to the role. Our desperate young lovers were also played with great conviction and considerable maturity: Lily, was the feisty, petite yet tomboy-like Hermia rebelling against her father's wishes. With her passionate performance, Olivia quickly won the sympathy of the audience as poor, lovelorn Helena while Harry was a delightfully dashing and debonair Lysander (with rather a fear of commitment). Meanwhile, Jed won many fair ladies' (and quite a few mothers') hearts with his golden voiced Demetrius. All were so confident and completely committed to their roles and each and every one of them was wonderful.
Then there were our marvellous magical characters from the Fairy realm. Alice was sensational as the strong-willed temptress, Titania; her lovely singing voice was a joy to listen to whilst her rapturous adoration of her new love was a delight to witness. She was the perfect match for the scheming and majestic Oberon, played with great gravitas by Edward. Lucas's mischievous grin perfectly personified the character of Puck and he kept the audience entertained with his many antics, including his gun-toting penchant for a water spritzer bottle! NO one was safe from his trigger-happy ways!
Our fairy band of Titania's charming, if occasionally "bolshy", fairies (played by Atlanta, Federica, Tilly, Sacha, Phoebe, Jessica and Orla) delighted the audience with their lovely singing and graceful dancing. They transformed the stage and served Titania in her love bower, pandering to the somewhat repellent demands of her new flea-ridden, long-eared lover. All the costumes were created by the children themselves, with the support of Mrs Sue Fields and Mrs Julie Speers, and, in the fairies' case, were wonderfully colourful and ideally suited to their characters' names. The superb makeup (also created by the afore-mentioned ladies, together with Mrs Felicity Robinson, Mrs Rachel Ward and helpers) plus the considerable care the girls had taken in perfecting their hair (beautifully styled by Tilly) completed their very original character portrayals and provided a wonderful visual treat for us all.
The "Rewind" Magic of the Day scene, retelling the mysterious events leading to the various romantic muddles and the strange transformation of Bottom into the love of Titania's life, was wonderfully constructed and absolutely hilarious. Wonderful pastiches of well-loved sports commentators were created before our eyes by the rather strange, green faced goblins: Jonathan, Oliver and Will while Harry was briefly released from his Indian boy role into that of clapperboard operator!
Perhaps most rousing of all were the wonderful, and for many of us, much loved and familiar songs which had been chosen to compliment the script and we all loved having a chance of a good old "singalong".
Huge congratulations must go to Mr Steve Little for his inspired staging, script adaptation and vision. Also to Mrs Susie Jones for her, as ever, wonderfully imaginative and brilliant choreography and staging of the musical numbers and Ms Diane Day for her magical music and for creating our own MHS band with the support of some of our peripatetic teachers. Our wonderful art department already mentioned above, for the staging and scenery and our "backstage boys" were also largely responsible for the success and smooth running of the show - so responsible and reliable were they all , that everything ran brilliantly from curtains, to scene changes, to props and the somewhat eccentric puffing smoke machine. Well done to Oscar, Ru and, in the lead up to the show, Arthur.
This was an outstanding achievement – the result of a great deal of hard work, collaboration, and commitment at a time of term when everyone is tired and looking forward to the holidays and the energy levels really begin to flag. As with all these things, the hard work and the hours of practice which are required, truly paid off in the end, culminating in a simply sensational show! We know that the children involved will now go away with some very happy memories and a valuable life lesson: that you reap what you sow – and that "crop" is now a precious memory of a time spent all together working for a common cause - a very special and completely original show. What a wonderful way to end their time at MHS and well done to everyone involved!
Current parents please click here to see the Gallery of photos