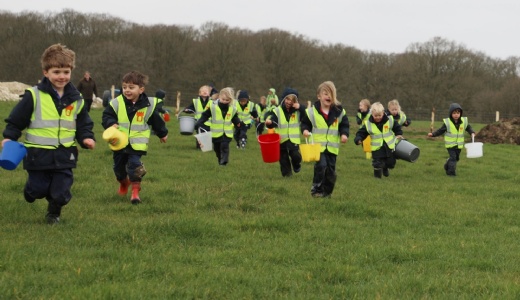 This week, with the weather dial stuck on rain, our Reception children togged up and set off for farmyard adventures as part of their farm topic this term.
Three-day-old calves were stroked, hungry cows were fed and animals and children took shelter in the barns when the weather became too inhospitable. The children learnt about animal husbandry, from eating to cleaning, and loved meeting and greeting cows, calves, bulls, dogs, chickens and horses - even the ducks performed on cue, providing a fly by as they took off overhead and landed back on the pond.
A highlight though was the thrilling sight of a calf being born. Some things just need to be seen to be believed!
The children were superstars, listening well, asking questions and making the most of every opportunity. For some, there was excited chatter on the journey home, but for many it was an opportunity for 50 winks after a very busy and blustery day.
With all the high visibility jackets drying after a much needed wash, we can all agree that a soggy day can still be spent making some great memories.