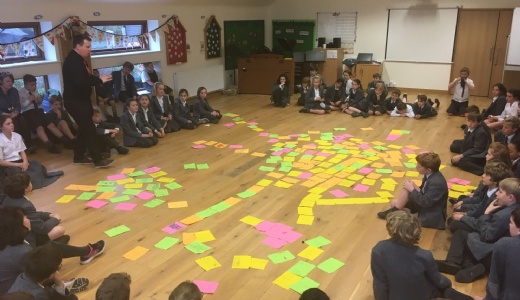 Last week we celebrated National Science Week with a range of inspirational and insightful events
Our resident scientist and madman, Professor Erasmus Thinkington-Wotsit, performed a science show in the lab for Year 3 and 4 and his alter ego, our Head of Science, Toby Payne-Cook talked about the variety of ways we can be great at Science and the huge opportunities this rich and varied subject provides beyond school in a Pre-Prep assembly.
We also had two visiting speakers. The first, Professor Ijeoma Uchegbu from UCL spoke to Year 7 & 8 about her group's groundbreaking research in Pharmaceutical Nanoscience. She gave the children a great insight into how pain receptors in our brain work and how a magic ingredient extracted from crab shells could help to deliver fragile molecules to the brain, via the nasal cavity.
On Thursday, Andy Puncher, founding director of award winning pH+ architects in London brought his creative energy for Year 5&6; focussing more on the creative elements of design - where science meets art (sCiEncE + ART = CREATE). He wowed the children with his environmentally and community sensitive designs and then curated a workshop where the children first brainstormed their ideas for a Utopian city, then sketched their plans before we built our city - from giant post it notes - on the floor of the Hopkins Hall. Not only were the children inspired to become architects, but they practised their creative thinking, idea generation, listening and collaborative skills. Simply awesome!
Many thanks to Professor Thinkington-Wotsit for organising these fantastic events for the children!