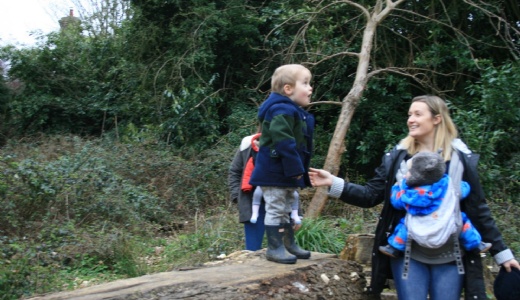 Last Friday we were delighted to welcome 31 toddlers and 37 adults to our Toddler Session which was mixed with a visit to our Forest School.
Everyone walked down to Forest School and met the Reception children who were there busy roasting crumpets. The older children were only too happy to greet the Toddlers and show off this lovely fun outdoor environment. The Toddlers enjoyed cooking in the mud kitchen, swinging on the swings, finding the biggest sticks and crossing the bridge of the far away tree.
Our visitors then headed back to Nursery where Mrs Edmondson and the chicks were waiting for them and, after a play in the Nursery garden, they all gathered inside for a very crowded Easter sing-along with Ms Bishopp. Finally topped off with fantastic Easter biscuits from the kitchen.
If you are interested in learning more about our Forest School or Toddler sessions please do contact our Registrar, Mrs Emma Houchin, on registrar@marlboroughhouseschool.co.uk
Our Toddler sessions run between 10-11am every Friday during term time.