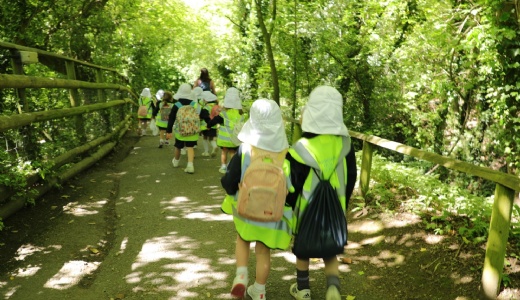 With the sun shining and the wind in our hair, all of Pre-Prep headed off to Port Lympne for an African experience never to be forgotten.
With three coaches full to bursting and 105 children all dressed in high visibility jackets we could have been mistaken for a large swarm of Bumble Bees heading off for a fantastic adventure.
As we boarded the Safari trucks the day became like no other. With wallowing rhinoceros, camels that refused to move off the track to allow our truck to get through (the leaves they were eating were too good to resist!), not to mention the look of sheer indignation from an ostrich as we quietly drove past - keeping all our fingers out of sight just in case she fancied a nibble!
The day continued with great enthusiasm for spotting shy animals in smaller enclosures or the challenge to climb the steep hills or gruelling steps back up to Base camp.
What a wonderful day in the sunshine and a fitting outing for general well being and happiness in Mental Health Awareness Week. The children were delightful, always interested and caring of each other, the teachers were very proud!