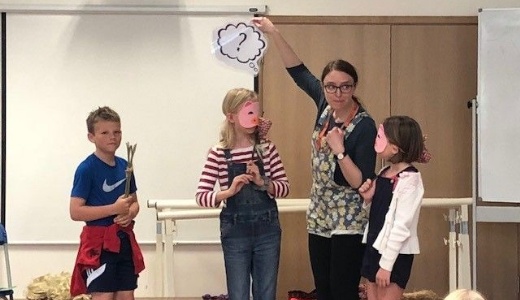 Last Friday Middle School were a colourful sight attired in rouge, bleu et blanc in preparation for a special French Day.
Parents came in for le petit déjeuner with croissants and pains au chocolat then it was time for Y3 and Y4 to begin their cross-curricular art work.
Year 3 focused on Paris, first they read the story book "Où est mon chat?" about a little girl called Lola looking for her cat, Mistigri, who runs away from home and wanders around the streets of Paris. It is quite an interactive book as the reader has to spot the cat on every page, a bit like a "Where's Wally?" book. It was an excellent starting point to talk about famous monuments in Paris, learn facts about them and share our experiences of having visited them or wanting to go there. THe children then had fun playing with four key Parisian monuments, based on the work of Belgian artist Ben Heine who created the concept of pencil vs camera.
Year 4 created their own beautiful versions of a rose window for Notre Dame cathedral (current parents, please have a look at the lovely colourful work on display in the classroom). Year 5 ran a café for staff and serenaded their customers with traditional French songs - although singing in the rain might have been more appropriate!
The drama activity for Years 3 to 5 was a one woman show who recreated Goldilocks and the Three Bears and The Three Little Pigs. It was a very interactive session including plenty of pupils donning masks and getting into role and the children had a great time watching and taking part.
A big thank you from Madame Reeves for all the help from staff to help make this such a fun day and to Madame Reeves and Madame de Haan for all their work in making it such a fun day.