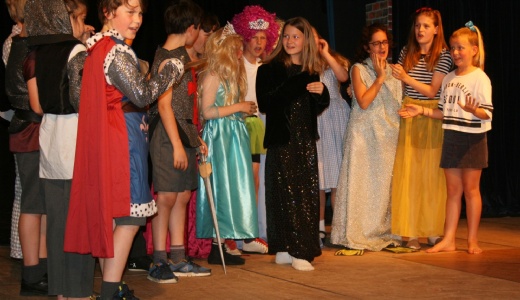 On Tuesday evening, our Year 6 children entertained a warm and receptive audience with the performance of their Informal Plays .
In both English and Drama lessons, the children wrote, devised and produced their own original pieces of theatre with the remit of inverting traditional fairy tales.
The two plays were both outstanding! 6J performed first with their play, 'When Disney Got it Wrong... In a Land Far, Far Away'. This hilarious tale saw an elderly Walt Disney writing his main characters into the wrong locations. Much hilarity then ensued as different characters were thrown together. It all ended well though; a magic spell from the Fairy Godmother saw everybody falling in love - apart from Snow White, but that's a different story!
The second performance of the evening was 6T's play, 'Bread Wars - Episode 1; Snow White and the Seven Baguettes'. In this production the drama unfolded on Pastry Planet where evil Queen Naan would stop at nothing to destroy the fairest Princess in the land, Snow White Bread. With the assistance of some helpful baguettes and the Three Little Pigs in Blankets, good triumphed over evil and order was returned to the Galaxy (and the message to give children white bread!).
The Year 6 children showed great confidence, maturity and acumen on stage, they visibly grew in stature as they performed. They produced genuinely funny, engaging pieces of theatre and created moments of magic that will live long in the memory.
Well done to all involved!