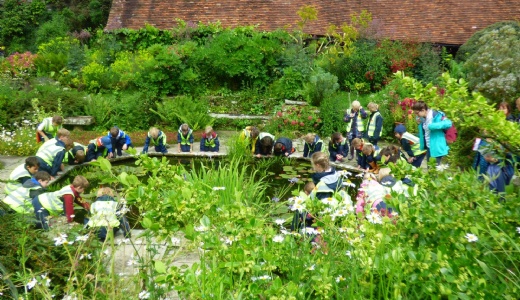 We set off to Great Dixter after a terrific downpour, ready to brave any weather!
When we arrived, our information guide, Jane, took us to the Education Centre. We discovered that Christopher Lloyd lived at Great Dixter, he started the beautiful garden there and received an OBE for services to gardening. He had loved plants and gardening since he was tiny and he was the youngest of six children. The house was first built in 1210 so it was very old. It was transformed from a dirty old farmhouse to a beautiful house and magical garden.
In the Education Centre, we experimented with the ingredients of dough and created some flatbreads to eat with garlic butter.
We nervously exited the Education Centre, but were glad to see the rain was holding back! We went to the beautiful garden and drew some flowers. We then went back inside where we drew our flowers on to tiles and printed them on paper using paint and a roller. We all thoroughly enjoyed this activity and the finished effect was stunning.
In the afternoon we set off for the forest, creeping and sneaking to make sure that we (Robin Hood's merry clan!) wouldn't be caught by the Sheriff's Wardens! On the way we picked some wild garlic leaves. We eventually arrived at a clearing in the woods where we set about collecting wood for the fire. The dough was turned into the most delicious garlic butter flat breads, cooked over the roaring fire.
In the forest we worked on our team building skills, collaborated to make dens and, after some trial and error, learned to ford streams. We were lucky with the weather, but some of us got very muddy during our antics in the woods!
A big thank you to all the teachers who led the trip and to Great Dixter for welcoming us back.