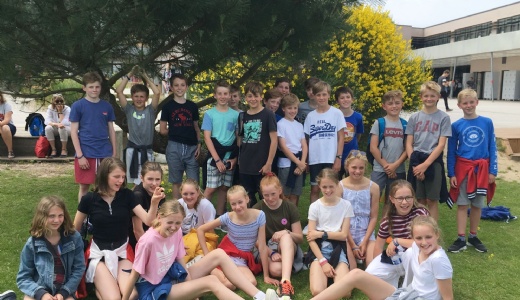 Ooh La La! What a wonderful week Year 7 had in France! It was action packed, full of fun and created some fantastic memories for all.
We learned so much! Firstly, about French food – starting with our visit to a boulangerie where we were under the stern tutelage of the baker who ran his boulangerie like an army sergeant (but with a huge twinkle in his eye); to a goat farm where we delighted in feeding and petting the delightful kittens, a very well fed pig and kids (baby goats of course!) ; to a sweet making factory on our return trip to Boulogne. We feasted on baguettes, croissants and pain au chocolates every day and, on our return journey, enjoyed ordering and quaffing scrumptious crepes and chocolat chaud at a café in Berck Plage.
Our trip was full of wonderful educational opportunities too: we visited the Commonwealth war graves at Etaples, we worked on our entente cordiale and our French speaking skills with our pen friends in Le Touquet and, on our day trip to Paris, we scaled the Eiffel Tower and cruised up and down the Seine on the Bateau Mouche, where we could see the sorry sight of scaffolding around Notre Dame. We also popped into Sacre Coeur and ordered drinks at a cafe in Montmartre (where Mr P-C enjoyed posing as Jean Paul Sartre) and, in Abbeville, we bartered in French with the market stallholders to secure bargains in fashion and sweets!
We have also had a good physical work-out with all our walking, a visit to some amazing caves; our water activities back at our chateau; some rousing sing-songs and camp fire games and a delightful walk along the beach at Berck to the area where the seals bask in the sun. And who can forget (even if they wanted to!) the one and only (rather eclectic) talent on show in "Year 7 has Talent" on our final evening at the Chateau.
All in all, it was the the most fantastic trip with something for absolutely everyone! Un tres grand "merci" to Mme James for a wonderful trip! Thank you too to Mme Reeves for all the TLC given to the children in her role as Medic, and Monsieur Payne-Cook, our chief correspondent and communications officer who, needless to say, was tireless in his efforts!
Mrs Atkins
Thank you also to Mrs Atkins for all her care, supporting the children with their French, as a French speaker herself, and the wonderful portrayal of Strictly Judge Bruno Toniolli at the talent show!