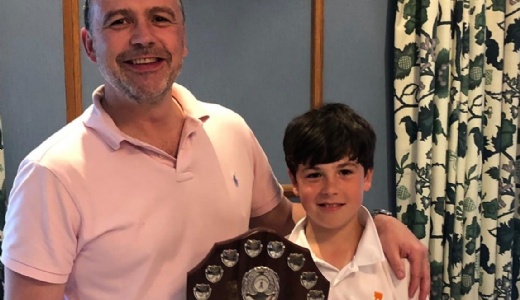 MHS Golf Day June 24th 2019
Kindly written by Mr Greig
As the winner of 2018 I had the great honour of organising the 2019 Parents' v Pupils' Golf Day at Dale Hill. There was great interest and this year we had 24 players participating for the MHS Golf Trophy. Groupings were selected prior to the day and we started teeing of at 4.30pm.
There were some seasoned golfers amongst the dads and some new to golf players amongst the children, this made the atmosphere both fun and competitive at the same time. One of the highlights of the day was Andy Parsons getting his sombrero out of his bag on the 2nd hole and getting a hole in one! However, this did not deter the Mr Hollands and Henry as they posted a Stableford score of 27 points to win the trophy.
Overall this is a great afternoon of golf, meeting and socialising with some people you don't normally see around school and it definitely is a bonding time for the parents and the children.
Roll on next year with Mr Hollands taking the reins as organiser (The Champion's duty!).
Many thanks to Mr Greig for organising the day and for the lovely write up!