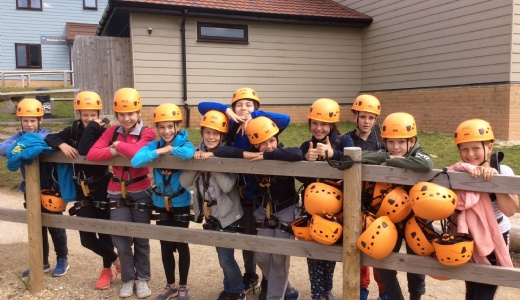 After a five hour journey, the coach arrived in Osmington and, as it drove over the crest of the hill, a stunning view of Osmington Bay greeted us.
Over the next three days, our Year 6 children took part in seven activities which challenged them mentally, physically and also involved team work.
The modern accommodation and excellent dining arrangements were fantastic and much appreciated by all.
Here are some of the Year 6's thoughts on their trip:
The food was good because you had lots of options.
It was very challenging, but in a good way.
Mr Tooze's bingo was really fun because it was something we could all join in on a long journey.
I had a good time on the trip because the activities were fun, like the Giant Swing, Zip wire and trapeze - and the journey was fun with bingo.
I don't think there was anything bad about the trip.
It was great! The activities were really well organised and my favourites were Dragon boat racing and Zip wire. I loved Mr Tooze's bingo!
It was great fun and I did things I thought I could never do including abseiling and dragon boat racing.
It seems Mr Tooze's bingo was a highlight!
The return journey was longer due to the Friday night traffic but Year 6 were excellent travel companions; their conversations were always at a low level and they were able to entertain themselves without a single video being played – a great credit to them!
Well done Year 6 and a big thank you to Mr Tooze and the staff for accompanying the children.
Please click here to see some photos on our Facebook page