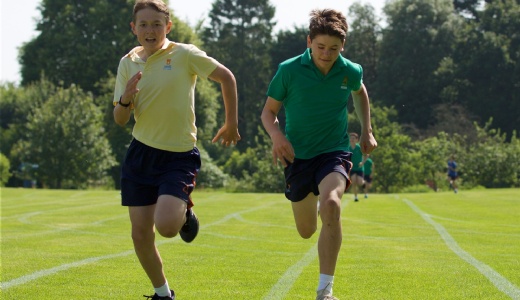 We had an amazing Sports Day on Saturday, on the hottest day in June since the 1970's!
The boys and girls worked really hard for their Houses and performed superbly .
Some new records were set a 70m Boys' record of 10.69 by Theo C, who also broke the 200m with a time of 31.35. Antonia B set a new 70m time of 12.10 and Elliott F (who won 6 events) set a long jump record for Yr 6 boys of 4.01m, breaking a longstanding record by a good margin. Olivia G also broke the girls' Yr6 Shot Putt, showing excellent technique with a new distance of 6.8m.
Overall, the final race of the day swapped the positions around after a Dunbar victory in the Boys' Yr 8 relay, bringing them up to second place - with Awdry and Egan behind them in the overall ranking - but Hawkings performed superbly all day with a runaway total and came first by over 50 points.
Well done to all the children who took part and particularly to all the Parents who supported the Houses. Mr Mathers would like to staff all the staff who helped out to make the event happen so successfully and to thank the grounds and maintenance who worked tirelessly all summer to provide such a superb venue.
Please click here to see more photos on our Facebook page
.