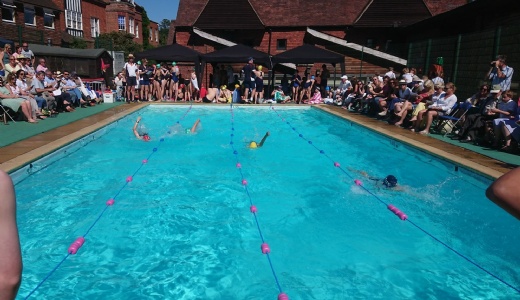 Our two Swimming Galas were blessed with extraordinarily good weather this week.
We had spectacular swimming to go with the conditions and as always these Inter- House competitions typify the Marlborough House way of everyone getting stuck in, trying their hardest regardless of their specific ability.
We have been treated to wonderfully tight races and some extraordinary record breaking. Over the two Galas (Middle School and Senior School) around 120 races were held and we had several records broken. The Senior gala was graced by some swimming of the very highest order with national standard swimmers competing (Olivia and Emilia), it was a privilege to watch them and the range of swimmers across the ages.
Overall Hawkings won the Senior and the Middles. Sadly Dunbar brought up the rear in both and Awdry and Egan sharing a 2nd and 3rd each.
Thank you to all the children who competed and the support form the parents for these two superb events was excellent to see. Thank you for the staff who have helped to make these events so successful.
Mr Rob Mathers