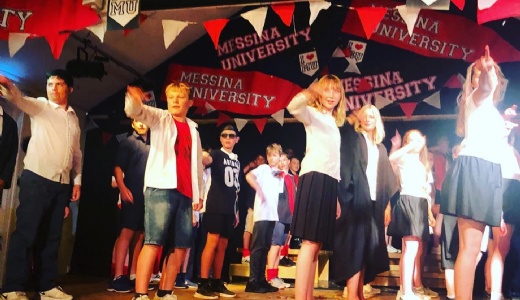 What an absolute triumph the Year 8 play was! The Children excelled themselves and brought their audiences to their feet with standing ovations both nights.
Mr Little surpassed himself once again with his adaptation of William Shakespeare's Much Ado About Nothing, reinvented and adapted to the modern era, at Messina University, where soldiers were sportsmen and cheerleaders were ready to welcome their heroes home.
Every pupil in Year 8 had a part to play on stage and all looked more than comfortable in their parts and spoke, acted, danced and sang with clarity and confidence.
This was, quite simply, an extremely skilful and entertaining production, performed with panache by the pupils and all brought together by Steve Little's direction, Susie Jones' wonderful choreography and Ms Day's musical direction. Not forgetting of course the wonderful set, costumes and props which were skilfully produced by Sue Fields, Felicity Robinson and Julie Speers.
Well done to ALL the pupils and staff involved in this wonderful and unforgettable production!
Please click here and here to see more photos on our Facebook page