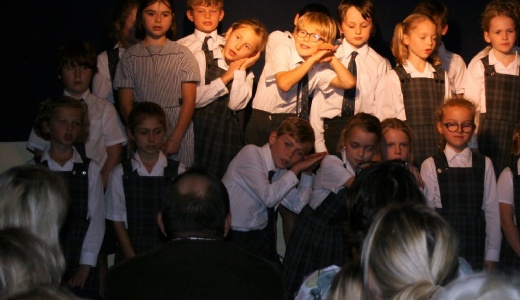 Find out about our wonderful evening of recited poetry
Friday's Prep School Poetry Celebration was a great success again for Marlborough House.
The wonderful evening of recited poetry began with an aural treat from Y4 as the pupils performed 'Night Mail' by W. H. Auden. The children recreated the sound of a hard-working steam train as they punched out their lines; a focused, energetic start to proceedings.
The Prep School children performed a huge range of poems; comedies, duets, traditional and modern. We also had some poems written by the individual performers themselves. There were even some costumes and props thrown in for good measure! Y6 children, as in previous years, made an arresting contribution to the evening by performing their storm poems. These poems are created collaboratively in English lessons after studying other poems and focusing on figurative language. They created powerful images and performed with an energy that captured the storms they were describing (and sadly replicated the weather we are currently experiencing).
But the rain didn't dampen spirits. The commitment and quality of the children's performances was again very high. The performers showed empathy, understanding and great comic timing where appropriate. It took great courage to perform in front of a live audience and the children will all grow in confidence because of their efforts. This is also true of the two Y7 boys who began the evening with a saxophone duet.
The event came to a close with Y7's engaging rendition of Henry Wadsworth Longfellow's poem 'The Wreck of the Hesperus'. This haunting recount of a ship wreck at sea was delivered with power, purpose and poise by the children. Well done to all who participated!
The Poetry Celebration only comes together through the hard work and determination of Mrs Atkins. Our gratitude and thanks must be extended to her for creating another memorable Marlborough House event.