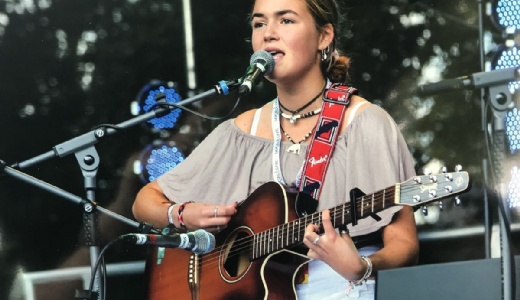 MHS Alumnus Elo Quitmann performs on Kent's Live Music Show and releases her third Single on Spotify.
Former pupil, 17-year-old singer-songwriter Elo Quitmann, recently performed two beautiful solos on KMTV's Bassed in Kent and released her third single on Spotify, where she already has a strong following of fans. This is the latest achievement from a rising star, whose passion for music developed at a young age; within the thriving music department at Marlborough House School.
Singer-songwriter, piano player and guitarist, Elo, first picked up a guitar aged 10 and soon began performing at school concerts under the guidance of Ms Day, Head of Music, Marlborough House. Elo's talents were subsequently recognised by Eastbourne College which offered her a Music Scholarship.
Elo said "Marlborough House gave me the confidence to express myself through music and ignited my enjoyment of performing to an audience".
Watch Elo's Bassed in Kent performance: https://www.kentonline.co.uk/kmtv/video/bassed-in-kent-eloquitman-thursday-10th-october-2019-27362/
To read the full story on the Marlborough House Society website, please click here.