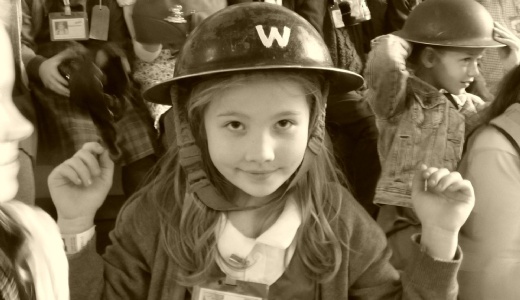 Year 4 were evacuated to Horton Kirby this week, in a Time Machine disguised as a coach!
Our Year 4 children looked splendid in their 1940s outfits on our WW2 History trip to Horton Kirby, a village that played an important role during the war. Our guide, Mr Tanner was very interesting and informative and took us all on a whirlwind tour of the different sites in the village where events happened. The children listened very well, learnt so much and were an enthusiastic and delightful audience. In fact they were so well behaved that the staff at the Centre commented on their excellent behaviour, to the extent that if they had had such delightful children to teach they would never have left the profession! Praise indeed!
Thank you to the children who wrote the following comments:
'The coach transported us to the 1940s. When we arrived, a Home Guard soldier called Mr Tanner took us on a walk and on that walk he told us some humorous and some sad stories about the children from the village in the Second World War. We found him very interesting indeed. After lunch, we played games such as skipping and hoop and stick.'
'Later on, Mr Tanner turned into a strict headmaster who gave us a lesson on how to recognise German and British Planes, adding shillings and pence and how to write a letter home to Mother. We were in the middle of a first aid lesson… when suddenly the air raid siren sounded! We were evacuated to an air raid shelter, it was quite cosy inside. We sang Daisy Daisy to keep our spirits up, we carried on with our lesson on adding shillings until the All Clear sounded and we could go outside again.'
Thank you to Miss Davis, Mrs Robinson, Mrs Jones for accompanying the children and looking fabulous in their 1940s dress and to Mrs Mathers for organising the trip.