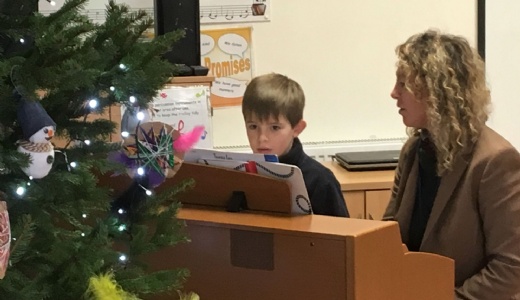 Pre-Prep showcase their musical talent to their parents and our Nursery children.
MHS Head of Music, Ms Diane Day writes -
"What a treat we had on Friday morning. Everyone was smiling, performers and parents alike!
The audience in the Hopkins Hall were treated to a variety of piano pieces and some violin too. The children were amazingly brave and played extremely well. It was a joy to watch and exciting for me to see the young musicians we have at Marlborough House. Many thanks to Miss Bishopp who will we hope will be putting on more of these concerts. A huge success! Well done to all the performers."
Miss Bishopp said:
"It was my privilege to be a part of the first Pre-Prep Informal Music Concert this morning. It was wonderful to have a complete range of players, from beginners (who have only been learning a matter of weeks!) to those who have been learning for a little longer.
To see the children introducing their pieces themselves at such a young age was very impressive indeed and there were some rather tearful (and deeply moved!) audience members.
The smiles continued for the rest of the day and we are now all excited about the next one!"