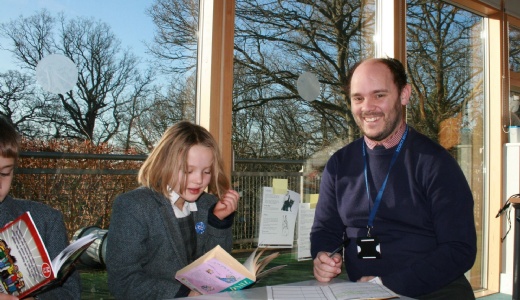 Have you met our new Year 3 teacher, Mr Linch, who started this term? Amongst his many accolades he is also a talented sportsman, having played in the early rounds of the F.A. Cup!
Tell us a bit about yourself, what's your background?
I am now in my 9th year of teaching and before Marlborough House I taught at a range of different schools that have taken me around the country and abroad. From an independent religious school to various sized primary schools in Hastings, Kent and Blackpool and working at an international school in Slovakia for two years.
Before teaching I was a sports coach and worked in sports development after completing my degree in Sports and Leisure Management. I then definitely caught the travel bug as I had a change of career and became self-employed, working in event management, which gave me time during the quieter winter months to travel all over the world. I had many great experiences and saw many magnificent sights when travelling, and even managed to travel from Bangkok to Bexhill without flying which wasn't even planned!
Growing up I played lots of different sports but my love has always been football. I won the Sussex College Cup before moving into playing men's football playing in the Sussex County League for a few different teams and even once played in the F.A. Cup, although it was an extra preliminary round, about 15 rounds from Wembley! Nowadays I still enjoy watching sport but most of my time I spend with my family and my baby girl, Athena, who we like to get out in nature as much as possible.
What inspired you to be a teacher?
There were a few factors that inspired me to become a teacher. I have always enjoyed working with children: teaching them different sports; seeing them master new skills that I had taught them; and understanding the confidence that it gave them and the sense of achievement. It was through my coaching that I realised I enjoyed working with primary aged children more than the older children. Also some of my sports development work was based in a school and it was there that I recognised that I enjoyed working in a school environment. So after some contemplation whether to train as a secondary PE teacher or a primary teacher, I decided to apply for a post as a teaching assistant in a reception class to see if I would enjoy primary level. I was amazed with the enthusiasm and pace of the learning and the children's desire for knowledge and that confirmed for me that this was the right path.
What's the most important lesson you can teach?
I believe that the most important lesson you can teach is independence. A child who is growing in independence is starting to take responsibility for their own actions whether it is inside or outside the classroom or at home. They start to take learning into their own hands and grow as a person as they become less dependent on others and able to solve problems and barriers that they come across themselves and hopefully continue to do so in later life.
What are you most enjoying this term?
It's got to be the view from my classroom! I think I have been very lucky.
Though without a doubt, it has to be all the staff at Marlborough House. They have been so warm and welcoming and very helpful.
What exciting things are happening at Marlborough House at the moment?
Year 3 have recently had a Greek day and had many different workshops. It was fantastic seeing the children take part and learn new things by getting into a role and being hands on; it really helped to spark their imagination of what life would have been like in Ancient Greece.
What do you think makes Marlborough House stand out?
From the first time I arrived at Marlborough House I was struck by the amazing learning environment and the lovely atmosphere. There seems to be real dedication from all staff to help all the children reach their potential, complimented by a caring nature, focusing on their well-being. It is also lovely to see the children outside, whatever the weather, enjoying the amazing surroundings.
Quick-fire questions:
School House: Dunbar
Unusual fact: I have a scar in the same place as Harry Potter, but was it made by a dark wizard or not?
Highlight of your day: Walking into school from the car park and seeing some amazing sunrises at the moment
Most memorable moment at MHS: Myself and Mrs Robinson jumping over the bulls for the Year 3 Greek day (see below)