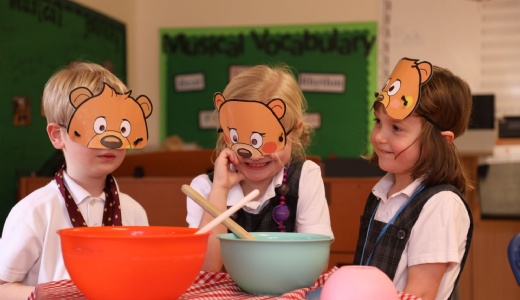 What is the link between colourful dance scarves, band wrist bells, egg shakers, a 50 metre writing paper roll and Camille Saint-Saens? Music and French of course!
Pupils in Pre-Prep enjoyed a beautiful French day on Monday starting with sensory activities on the music of the Carnival of the Animals by Saint-Saens where they danced and worked out which instruments were describing which animals. They were then treated to a theatre performance in French which, given the noise and laughter level, they thoroughly enjoyed. I was very impressed with how Years 1 and 2 coped with one solid hour of French only!
Equally impressive were Reception pupils who joined in Goldilocks and the 3 bears with great enthusiasm. They then had some time back in the classroom doing activities in French on parts of the body.
Thank you to all staff who helped (Ms Day and Ms Reeves in particular), to the catering team for the delicious croissants and to the Friends of MHS for sponsoring the theatre company.
Mme De Haan