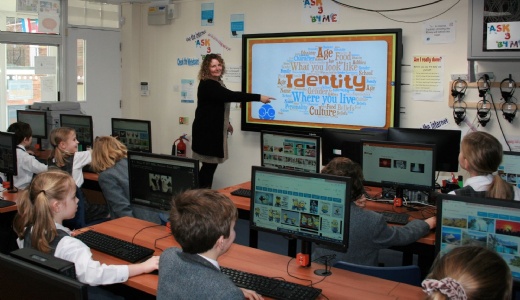 As today is Safer Internet Day, we thought it would be a good moment to catch up with Mrs Rhondda Reeves, our Head of Computer Science, to find out a bit more about her approach to teaching and her experience at Marlborough House - five years already!
Tell us a bit about yourself, what's your background?
My interest in computing came from my own children's computer and them having a better understanding of how to use it than me. I decided to take myself off to college and loved every minute of it. Most of the teachers said I should try teaching the subject as I was doing so well and clearly had a passion for computing. Just by chance one of the colleges I attended as a student had an opening and my teacher put my name forward for the job. Thankfully I got the position and haven't looked back since. I have taught adults with very little experience right up to GCSE and A Level Computer Science students.
What inspired you to be a teacher?
Being able to share my knowledge and passion for computing with others and watch their knowledge grow.
What's the most important lesson you can teach?
Never be afraid to ask for help. As you are probably aware computers don't always do what you want them to do. Although generally this is down to human error, by being patient, working together, you will get there in the end.
What are you most enjoying teaching this term?
I am really enjoying teaching robotics to Year 7. I studied robotics as part of my degree and found the subject fascinating and I would say the whole of Year 7 feel the same.
What exciting things are happening at Marlborough House at the moment?
PSB has given me and other subjects the opportunity to explore topics in more depth.
What do you think makes Marlborough House stand out?
The pupils and staff are really feel happy here and it shows. Every member of staff here helps in varying ways, all playing a part in helping our pupils become the best people they can be.
Quick-fire questions:
School House: Hawkings
Years at MHS: This is my fifth academic year
Clubs: Gaming, coding and photography
Unusual fact: I have five grandchildren
Highlight of your day: Seeing the delight on any of our pupils' faces when they share what they have achieved with me, whether it is in my lesson or in another subject.
Most memorable moment at MHS: My first Year 8 Leavers' Chapel. As a form tutor it was my job to read out my Year 8 leavers' names. I only managed to get half way down the list before I burst into tears. My Year 8 pupils had really looked after me during my first year here and I felt a special bond with them.