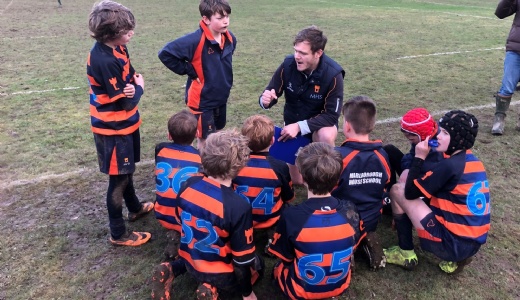 Mr Tom Robson is one of our Boys' Games Coaches and newly appointed Head of Clubs.
We thought it was time to find out a bit more about Mr Robson, who started at MHS last year teaching boys' sport, and has now taken on responsibility for our extra-curricular programme.
Tell us a bit about yourself, what's your background?
I was born and raised in North Wales and moved down to London in 2008 after I had finished my Sports and Leisure Management degree at Cardiff University. This is when coaching and teaching became a significant part of my life; coaching tennis at clubs and school as well as managing multi-sports camps. Then in 2011 I started working at an independent school in South West London as Head of Sport.
I have always been around sports and physical activity with rugby playing a large part in my childhood. I was fortunate enough to play for my County as well as for the Welsh Army Cadets. Athletics came naturally to me as a school boy and in 2004 I represented North Wales in the 110m hurdles and raced against Commonwealth and World Champion Dai Greene - he came first! In 2016 I ran the London Marathon, this was not only challenging but hugely rewarding and I hope to do it again someday, when I stop playing rugby; rugby training and long distant running training don't fit together to naturally.
Since moving to Kent I have been able to enjoy the slower pace of life with my growing young family.
What inspired you to be a teacher?
When I was 14 I took part in the Junior Sports Leader Award, I really enjoyed learning how to plan, structure and deliver lessons as well as seeing progression of an individual's skill.
What's the most important lesson you can teach?
Creativity, many of the sports I coach enable children to be creative and express themselves, achieving a specific outcome in different ways.
What are you most enjoying teaching this term?
We have just come to the end of what was a very rewarding and enjoyable rugby season. Rugby is my sport and it has been fantastic to see the boys progress their skills, learn new techniques and apply them during matches.
What exciting things are happening at Marlborough House at the moment?
We have just started boys Hockey in games, it has been interesting to see the different skill sets of the pupils and how well adapted they are to different sports.
What do you think makes Marlborough House stand out?
Support is one of the principles of play in rugby and since I have been a MHS, I can see a great deal of support in many parts of the school community.
Quick-fire questions:
School House: Awdry
Years at MHS: 6 months
Club: Table tennis
Unusual fact: I have a collection of vintage suitcases.
Most memorable moment at MHS: U11 boys' rugby 7s tournament
Thank you to Mr Robson and congratulations on your new role!