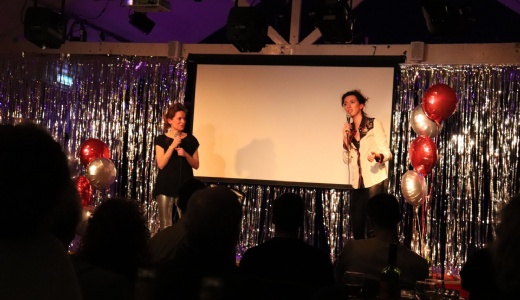 Last Friday evening the FoMHS held their third Comedy Night.
For one night only, the Old Gym was transformed into the 'MHS Comedy Club'.
The evening started with the hilarious Jon Long, who sang to us about the joys of recycling and also showed us some interesting new sign language!
Following a brief interlude to refill the glasses the comedy continued with Shirley and Shirley, regaling us with anecdotes and sketches of their rather complicated lives. Audience participation was required, and some interesting discussions were had with parents and teachers!
With a slightly longer programme everyone was ready for MHS Catering's legendary chilli. Mrs McTrusty and Kelly Selley were absolutely amazing at serving the hungry hoards and getting everyone fed in record time.
Thank you to everyone that came and supported the event, especially the MHS staff. I would like to especially thank Fiona Lock for taking the lead and organising us all and also to Dan Lowe, a parent who, although he couldn't attend, turned up at the end of the night to organise the clear up – Mr Lowe, the Friends think you are fantastic!
Rachel Bennett, Chair of FoMHS