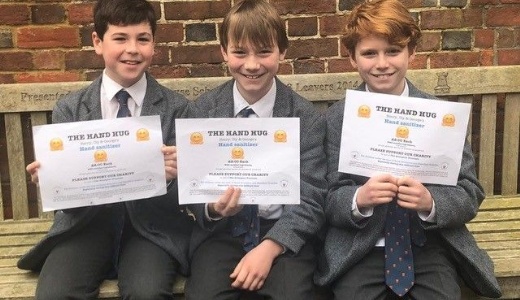 Very well done to Henry, Uly and George who have been making and selling hand sanitiser for charity.
Three entrepreneurial Marlborough House boys have joined forces to create affordable hand sanitiser for their Year 7 "Young Entrepreneurs' Scheme".
Ullysses P tells us "My mum was buying hand sanitiser online and I saw the price go up five times overnight," With this in mind but with the need for hand sanitiser, especially for the elderly or vulnerable, so acute right now; he, George R and Henry H decided to create their own, affordable version and have been selling "Hand H.U.G." (Henry, Ulysses, George) sanitiser at £2 per 30ml spray bottle. The sanister is now available to buy at the 'Eggs to Apples' Farm Shop in Hurst Green.
"Everyone, especially older people like grandparents, needs it," says Henry, "But it's either sold out, or people are charging hugely inflated prices for it." The boys looked up the World Health Organisation's DIY recipe used in developing countries and made their own, with alcohol, aloe gel, tea tree and lavender oils.
"We are giving all the proceeds to The Brompton Fountain," says George of the charity which is very close to his family's heart. "The children there are already suffering with health conditions and now, with the Coronavirus, they are also being isolated from family and friends. I have a heart condition and The Brompton Fountain really helped me, when I was little. I want to give something back."
"Having a child in hospital is distressing enough but in these difficult and uncertain times, it is particularly, hard," says Suzie, George's mother. "The Brompton Fountain provides vital support, resources and medical equipment which are not normally supplied by the NHS, to help families at the children's unit at Royal Brompton Hospital."
"Henry, George and Ulysses have been firm friends since they were 4 years old," Says Danielle, Uly's mother; "And seeing them want to do good in a time of crisis, makes us so proud of the kind of older boys and men they are choosing to become."
Very well done to the boys, we are very proud of them for this fantastic initiative.