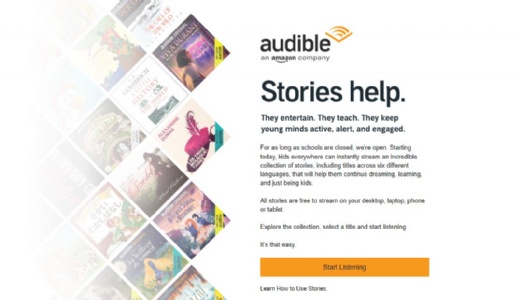 A round-up of some of the great online tools available, including those emerging following the recent school closures. Here are our recommendations!
Audible:
For as long as schools are closed, we're open. Starting today, kids everywhere can instantly stream an incredible collection of stories, including titles across six different languages, that will help them continue dreaming, learning, and just being kids.
All stories are free to stream on your desktop, laptop, phone or tablet. Explore the collection, select a title and start listening.

https://stories.audible.com/start-listen
BBC:
Learning resources for primary schools offering video, audio and downloads for Early Years, KS1 & KS2 covering music, dance, history, collective worship, literacy and maths and some additional resources for secondary schools at KS3 & KS4.
https://www.bbc.co.uk/programmes/p007g5y4
P.E. with Joe:
Daily live exercise class designed for children
https://www.youtube.com/playlist?list=PLyCLoPd4VxBvQafyve889qVcPxYEjdSTl
Cosmic Kids:
Making yoga and mindfulness fun for kids
David Walliams:
Every day at 11am, you can listen one of David Walliams' World's Worst Children stories, so sit down, take a break, and enjoy 20ish minutes of pure fun!
https://www.worldofdavidwalliams.com/elevenses/
We will be keeping this list updated so do check back in!