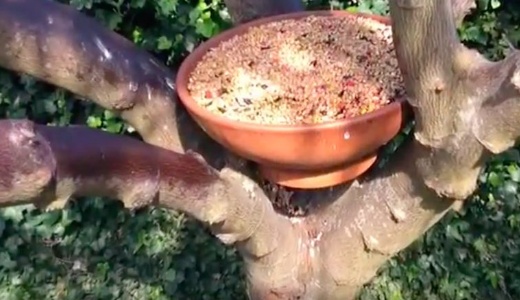 A forest school activity for you to try at home!
Although we have always fed wild birds in our garden, recently the number of birds and range of species has increased. This video shows me preparing some seed to put into plant pots that sit in my quince and greengage trees. It is a really easy activity to do, but absolutely needs a grownup!
You need:
1. Ceramic plant pot. Shallow ones are best. Check they sit in the tree before filling them. Put some card or paper over the drainage hole to stop the seeds from falling out.
2. Bird seed. You can get this from farm shops and some supermarkets
3. 1 block of lard. This is important as the birds benefit from the fat and it also helps stop all the seed from just getting scattered onto the garden!

To make:
1. Grownups - Slowly melt the lard in a large pan over a low heat. Once it's melted carefully take it outside and put on the ground.
2. Children - Carefully scoop birdseed into the pan, do this low down to avoid splashes. Stir with a stick or wooden spoon. Make sure the lard coats the seeds so it all looks shiny.
3. Pour into the pot and leave to cool. It will go solid after about an hour.
4. Now it's ready to go into your tree and you can watch the birds! If the birds in your area aren't used to you feeding them, it might take a few days for them to realise there is a new bird cafe in the neighbourhood, so be patient!
Julie Speers, Head of DT