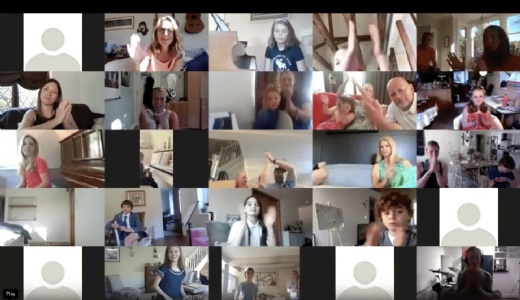 In May, children from across the school had the opportunity to perform at one of our Informal Music Concerts which took place online.
Pre-Prep Concert
What a privilege it was to be a part of the very first online Music Concert with Pre-Prep!
It was certainly a very different format to usual, but to see all the children in their own homes performing their pieces that they had been working so hard on, was very special indeed.
It really was the highlight at the end of my very busy week - I am looking forward to the next one!
Miss Bishopp-Schyberg
Prep School Concert
22 children took part in Prep's first Remote Informal Concert, some beginners, some more advanced, but all on a journey of discovery, learning about the power of music, the joy of music and the fear but also elation experienced when performing.
Bravery and a 'can do' attitude enabled them to agree to perform in the first place, especially as it was to a screen in their own living rooms!
We were treated to a variety of instruments (piano, guitar, saxophone, violin, cello, clarinet and drums) and voices. There was some beautiful singing. Some pieces were calm, others especially jazzy but what each of the children had was poise and focus and they all looked so confident. A moment of fear, a pause, a stand falling over, and having to start a second meeting, mattered not. It was a highly enjoyable 45 minutes and at the end I praised all the performers on their commitment to their practise. Practising an instrument requires isolation and so this has been the perfect opportunity to take strides forward in their music.
Bravo! to all the performers:
Fleur DH, Hercule P, Eliza B, Camille S, Felix H, Isobel B, Annabel J, Mya V, Gracie G, Emelia M, Clara E, Thomas E, Sophia C, Pippa G, Millie M, Rex C, Corey L, Henry H, George R, James W, Oliver V, Isabel W
Also, my sincere thanks to a wonderful team of peripatetic teachers. Encore!
Ms Day