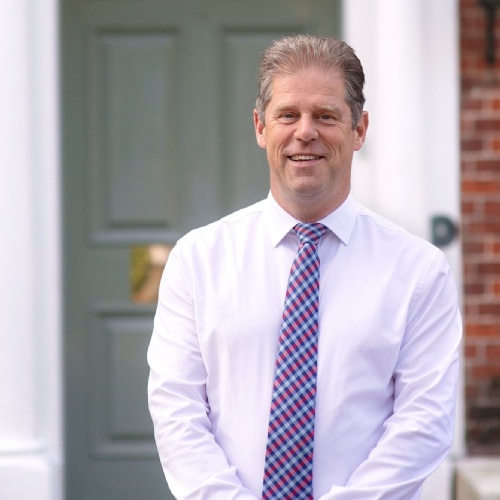 From Classics at Cambridge to a memorable day when Chairman of the Independent Association of Prep Schools, we discover a bit more about Mr Newton, our new Head.
What inspired you to be a teacher?
I really enjoyed coaching/helping younger children when I was a teenager and realised that I could combine my love of sport with teaching in the classroom – it seemed the right fit for me.
Tell us about your path into teaching...
I decided that I wanted to be a teacher at the age of 17 and never wavered from that path. I gained a degree in Classics from Cambridge University and stayed on for a fourth year there to do my PGCE (teaching qualification).
What do you love most about teaching?
The variety! You never know what's coming your way on any hour of any day. While it might seem that you're doing the same material or theme as last year, the children always find ways of surprising you and making it feel different. As a headmaster, I have to be able to switch topic at almost any time and I get bombarded with a whole range of issues to talk about and find an answer to. It keeps me on my toes!
What were you like at school?
Not creative enough! I was good at Latin, Greek, Maths and History, but far less good at English and Art, for instance. I loved my sport, particularly rugby and athletics. I went to an all boys' boarding school in the countryside and definitely lacked subtlety and worldliness – I think I have grown up a bit since then!
When you were younger, what did you want to be when you grew up?
I thought about joining the army when I was a teenager but soon gave up that idea. If I hadn't become a teacher, I think I would have liked to have been an architect.
What's the funniest moment you've had in a classroom?
The one that always raises a laugh, both from me and the children, is when one of the pupils wants to ask me a question and accidentally calls me "Daddy" – the only possible answer is "Yes, darling?"
What's the most important lesson you can teach?
Be yourself, but always try to improve.
What has been the proudest moment of your career so far?
About 7 years ago, I spent a year as Chairman of IAPS, the prep school organisation. I led the Heads' Conference that year and on the opening day I spoke to the press, introduced Sally Gunnell to the stage, read a lesson in Westminster Abbey and sat next to Terry Waite, our guest speaker, at dinner. That's a day I'll never forget. Oh, and getting married and raising a family.
What are you most excited about at Marlborough House this term?
Having everybody back! It was wonderful to see the excitement and feel the positive mood last Wednesday, and I hope that this continues.
What makes Marlborough House such a special place to be?
At Marlborough House School, the attention to the individual is outstanding. I know that lots of school claim that this is so, but here it really is. The warmth of the relationship between the staff and the pupils is lovely.
Quickfire Questions
Unusual fact: I am half Dutch
Highlight of my day: Lunch!
Clubs: None yet, but will soon offer either cross-country or athletics
The book I am reading: Just finished a Peter May thriller.
Most memorable moment at MHS: The first morning of school last week.