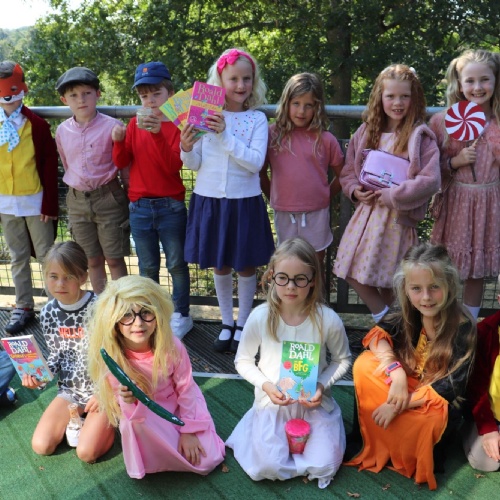 Our Middle School children had a wonderful time on Roald Dahl Day!
They all came to school dressed as a character from a Roald Dahl book and there were some wonderful creations from the children and staff!
Year 3 read The Twits and looked at character profiling, shared ideas and looked at using exciting adjectives and similes. Rory G wrote, 'He is as stinky as a rotten cabbage' while Barnaby C suggested, 'He is as hairy as a rat.'
Year 4 used the Roald Dahl story George's Marvellous Medicine and created their very own Marvellous Medicine! The children designed their own recipes with a list of exciting and extraordinary ingredients – these included interesting items like bath foam and shoe polish! Once they had had the list, including the quantities needed, they wrote the method with step by step instructions making sure they started each sentence with a verb! They also made dream jars, linking with the BFG. These were a PSHE exercise. Charlotte B made a wish to end starvation and world hunger, Annie B had a wish for the class that everyone would follow their dreams! They also did some handwriting from The Giraffe and the Pelly and Me. There will be a display of this soon so watch this space!
In Year 5, the children considered the different themes in the novels of this wonderful author and worked together to find connections with moveable posit it notes and a big grid. The themes discovered included magic, clever children, mean grown-ups and made-up words. They enjoyed the collaboration and deeper thinking that this required.
Finally, Year 6 considered Dahl's fantastic descriptive writing skills and aimed to emulate them in creating their own "Storm at Sea" descriptive writing.
To top all this the children also had a wonderful snack of cupcakes and tasty treats inspired by Charlie's Chocolate Factory kindly provided by our great catering department – so many thanks to them!
Thank you to all the staff for making the day so fun and well done to the children for throwing themselves into the topic so wholeheartedly!
Mrs Katrina Atkins, Head of English