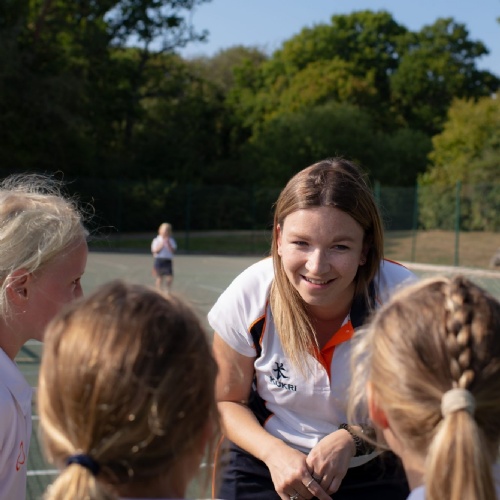 Maths Teacher, Girls' Games Coach and Year 5 Form Tutor, Miss Jones only started at MHS in the Spring Term so we thought a Snapshot Interview would be the perfect opportunity to find out a bit more.
Tell us a bit about yourself, what's your background?
I am in my fifth of teaching after having trained at the University of Greenwich for 3 years to achieve a degree in Primary Education along with my Qualified Teacher Status. I began teaching in Tenterden where I was a class teacher across all subjects and the PE lead for four years. During this time, I qualified as a Middle Leader and became the Mathematics lead, working closely along White Rose Maths to implement and develop the use of their scheme within the school.
Sport has always been an interest of mine, playing football and skiing from a young ago. Throughout my school life, I was always part of many teams and felt so much pride when I got to represent my school during matches. I still play sport on a regular basis; playing weekly for Tenterden Netball Club as well as running and cycling when the weather is nicer!
What inspired you to be a teacher?
My own mother inspired me to be a teacher from a young age. She has shown me how dedication and enjoying the relationships you form with the children and their families will always bring the best rewards.
What's the most important lesson you can teach?
I think that the most important lesson you can teach is to develop a love of learning so we can learn from our mistakes. This will help children to discover their passion and strive for it as well as motivate children to not only build on fundamental knowledge, but also to delve further. Learning new things through their own interest may infuse them with confidence, independence, lift their self-esteem and also be able to learn from their life experiences.
What are you most enjoying teaching this term?
I most enjoying teaching games to a range of year groups, it is wonderful to get to know so many children throughout the school.
What exciting things are happening at Marlborough House at the moment?
In games, the children have been working on summer sports within their year groups, enabling the girls and boys to partake in games alongside each other.
What do you think makes Marlborough House stand out?
I think Marlborough House stands out because of the kindness throughout the school. The school is a happy and welcoming environment which I feel very lucky to be working in every day. All of the children are a delight to teach and bring a positive attitude to every lesson. The staff know all of the children very well and show they truly care about the education and development of every single one of them.
Quick-fire questions:
School House: Awdry
Years at MHS: 9 months
Clubs: Year 5 Prep
Unusual fact: I own a share in a race horse
Highlight of your day: Being able to have a delicious lunch with the children and hear about their exciting mornings
Most memorable moment at MHS: Seeing the delight on the faces of all of the children in 5W when they passed their 'Bunsen Burner Licence' in science